The Best Men's Running Tights
By Nick Harris-Fry last updated
Keep your legs toasty all winter with these running leggings for men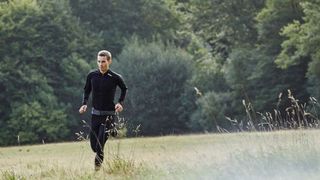 (Image credit: unknown)
For some, the moment the weather gets cold enough to necessitate wearing tights to run is the moment they choose to pack in running outside altogether until the spring. Pah, we say to them, pah! Running in the winter is just as enjoyable as running in the summer – you just need the right kind of running gear.
Good running tights will keep you snug without restricting movement and offer some compression to help warm up your muscles and aid in their post-run recovery. Here are, in no particular order, seven sets of running leggings to consider.
---
Soar ELITE Session Tights 2.0
(opens in new tab)
The remarkable thing about these tights is that you can use them for speed sessions and races in the winter without fear of restricting your freedom of movement. On the inside of the tights are four silicone bands, positioned around the ankles, calves, thighs and waist in order to ensure the material doesn't slip or bunch up on the run. They're not the warmest option, as you might expect of tights built for speed, but they do provide some welcome extra insulation during fast runs in the cold without the bulk of standard winter tights.
Buy from Soar (opens in new tab) | £125
---
(opens in new tab)
If you're intrigued by the name of these tights, it's explained by On also selling 7/8ths tights, which are perfect for anyone who reckons their lower calves are their best feature and should be on display whenever possible. Anyway, if you're as ashamed of flaunting your calves as we are, these long tights are warm and delightfully soft on the skin, and have a couple of handy pockets for your valuables.
Buy from On (opens in new tab) | £95
---
See related
Gore R3 Partial Windstopper Tights
(opens in new tab)
Windproof and water-repellent fabric on the top half of these tights keeps you warm and dry where it's most appreciated, while the lighter fabric below the knee prioritises breathability. There's a small zipped pocket on the back of the tights, which have reflective details on the front and back.
Buy from Gore (opens in new tab) | £99.99
---
Kalenji Run Warm Running Tights
(opens in new tab)
While these wallet-friendly winter warmers don't offer the same protection against wind and water that you'll find on pricier pairs of thermal tights, they'll certainly keep the cold out on chilly, dry days.
Buy from Decathlon (opens in new tab) | £14.99
---
(opens in new tab)
If you're working on a tight (excuse the pun) budget but still want a quality garment then, as always with running gear, dhb's running range is worth a look. These snug tights have mesh panels behind the knee to avoid overheating, and even offer a sizeable back pocket that's large enough to accommodate a phone – always a pleasing bonus on running clothes.
Buy from Wiggle (opens in new tab) | £32 (currently reduced to £28)
---
2XU Ignition Shield Compression Tights
(opens in new tab)
They won't work for everyone, but those looking for a combination of warmth, weather protection and compression will find it in these tights. The fabric on the upper legs is waterproof, while the lower legs are sheathed in a thermal material for extra warmth. They may be just too warm for some and the high level of compression will not appeal to everyone, but one feature that we're sure will appeal to pretty much all runners is the large pocket on the back that can take a phone.
Buy from 2XU (opens in new tab) | £95
---
Iffley Road Windsor Running Tights
(opens in new tab)
The Windsor tights are comfortable enough to lounge around in after your run, and they also dry quickly enough that you won't feel grotty doing so. They have minimal seams and panels to reduce any chance of chafing, and the back pocket is large enough to accommodate a smartphone. They're undoubtedly a luxury purchase at £100, but if you do splash the cash you'll feel regal wearing them.
Sign up for workout ideas, training advice, the latest gear and more.
Thank you for signing up to Coach. You will receive a verification email shortly.
There was a problem. Please refresh the page and try again.