The Best Men's Running T-Shirts
By Nick Harris-Fry published
Whether it's your first time or a continuing obsession, these tees will make you look and feel better while running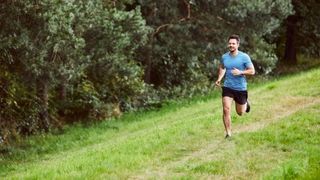 (Image credit: unknown)
In recent years, fabric technology has advanced so much that today's running T-shirts probably pack more tech than the spacesuits used to walk on the moon back in the day. Well, maybe not, but a decent one can definitely make running a more comfortable and fun experience thanks to lab-tested materials developed by years of research. But what are the differences and, of the countless options available, which is best for you? We've tested the best from all the major brands, so you can find the perfect T-shirt to meet all your needs.
Allbirds Natural Run Tee
(opens in new tab)
Allbirds is renowned for its sustainable running shoes, so it makes sense that the company has now expanded into environmentally friendly running gear as well. The Natural Run Tee is made from a mix of three sustainable materials: Merino wool, recycled polyester and Tencel Lyocell, which is made from sustainably sourced wood. Those materials also have useful properties for sports like temperature regulation, and the T-shirt is highly breathable and comfortable to wear, with a looser fit than most running tees.
Buy from Allbirds (opens in new tab) | £58
Soar UTR Top
(opens in new tab)
There's no denying that £130 is an awful lot to pay for a running tee, but consider this: when you're 120km into a 160km ultramarathon and your T-shirt is chafing, or driving you mad in some other way, wouldn't you regret not buying the best product possible whatever the price?
This is a simply brilliant T-shirt from Soar, with abrasion-resistant fabric to avoid damage from wearing a backpack for hours on end. Every measure has been taken to reduce the risk of chafing, with minimal seams and taped hems, while the figure-hugging cut limits rubbing.
Buy from Soar (opens in new tab) | £130
Zone3 Phantom Lightweight Tee
(opens in new tab)
As the name suggests, this tee is designed to feel like you're wearing nothing at all. The featherweight fabric and wide neck opening make for a more comfortable run in hot conditions, and the tee also dries quickly no matter how sweat-soaked it gets during your training.
Buy from Zone3 (opens in new tab) | £50
Janji Runterra Bio Tee
(opens in new tab)
The key feature of this T-shirt is nothing to do with its performance on the run; it's the fact that it biodegrades in four years (in oxygen-poor environments like landfill sites, that is – rest assured it won't break down in your wardrobe between runs). The tee is made from a mix of Supima cotton and 37.5 polyester – a soft material that helps to regulate your body temperature on the run – and it has anti-odour properties so it can stand up to a couple of runs without smelling.
Buy from Janji (opens in new tab) | £35
Saysky Classic Pace Long Sleeve
(opens in new tab)
This lightweight long-sleeved top is made from a soft material and has a fairly loose cut around the torso. It's comfortable to wear for long, easy runs, but also breathes well and doesn't get clammy when you ramp up the pace during hard sessions, making it a great pick for spring and autumn days when you want some extra warmth without a thicker layer.
Buy from Saysky (opens in new tab) | £55
Higher State S/S Running T-Shirt 2.0
(opens in new tab)
Another great option for bargain hunters, the Higher State running tee is always reduced to below £10. It's a classic synthetic tee that wicks sweat and dries quickly, though there are no anti-odour properties here and you will certainly want to wash it after one run based on our experience with it. The front of the T-shirt has a fairly short cut, so it might ride a little high if you have a long torso.
Buy from Sports Shoes (opens in new tab) | £22.99 (currently reduced to £7.99)
Iffley Road Durham Lightweight Tee
(opens in new tab)
We're big fans of the classic style of British brand Iffley Road's gear, and the Cambrian tee has been a long-time favourite. The new Durham tee takes the look of the Cambrian but swaps out the material for an ultra-lightweight fabric that's better suited to long runs on hot days. It's also an eco-friendly fabric, being made from a blend of recycled fabric and recycled coffee grounds. That's right, there's coffee in your tee, which can only make your run faster.
Buy from Iffley Road (opens in new tab) | £70 (currently reduced to £35)
Kalenji Dry Running T-Shirt
(opens in new tab)
A lightweight tee made from 100% recycled polyester (every running tee is made from polyester, FYI) that costs less than a fiver. What's not to like? This simple Kalenji tee does all the sweat-wicking of fancier options and comes in a range of pleasing colours.
Buy from Decathlon (opens in new tab) | £4.99 (currently reduced to £3.99)
Rockay T-Shirt
(opens in new tab)
This tee is made from a couple of recycled polyester fabrics. The first is Seaqual, which recycles ocean waste, and the second is S.Café, which uses old coffee grounds. That's the sustainability box ticked, and we're pleased to report the performance one can be as well. The tee is nice and light, is rated as UPF 50+ to provide enhanced protection from UV rays and has flatlock seams to avoid irritation, plus the material is treated with Polygiene to stop odours developing. That means you can use it a couple of times before washing, which adds a little flourish to the tick in the sustainability box.
Buy from Rockay (opens in new tab) | £59 (currently reduced to £41)
Brooks Distance Short Sleeve
(opens in new tab)
There's nothing particularly exceptional about this tee, but there's nothing not to like either. It's comfortable and breathable on hot days, it has a fit that hugs the torso nicely without getting clingy, and of course it wicks sweat and dries quickly. We wouldn't dare mention a tee that didn't. It's also made from 88% recycled fabrics, which is good, if not as great as 100%. One thing to be aware of is that it's cut quite short on the front. It only just covered the top of our shorts, which could be a concern for those with long torsos.
Buy from Brooks (opens in new tab) | £30
Fourlaps Level Tech Tee
(opens in new tab)
This is just a really nice T-shirt, the fact that it's also a great, technical option for running is a bonus. And it is great for running, with the 37.5 tech in the material being designed to keep your body at that ideal temperature, retaining heat when it's cold and letting it out when it's warm. Also, you'll definitely get extra cred at your next group run or race by rocking a tee from independent NYC-based brand Fourlaps in among the sea of familiar logos.
Buy from Athluxe (opens in new tab) | £52
On Performance-T
(opens in new tab)
This featherlight tee is a joy to wear when running hard. While the price is admittedly high, the thin, sweat-wicking material used makes it very comfortable and might well see it become your long-run favourite.
Buy from On (opens in new tab) | £70
TCA Dynamic Short Sleeve
(opens in new tab)
The relaxed fit and basic design of this T-shirt appealed to us – you don't always want your top to scream "I'M GOING FOR A RUN", after all. The stretchy material is breathable and, naturally, wicks sweat away. That said, we did find this top was a little clammier than others after a long treadmill sweatfest.
Buy from TCA (opens in new tab) | £19
Tribe Sports Endure Tee
(opens in new tab)
The Endure Tee is made from ECONYL, a recycled material made from rescued industrial plastics and ocean waste, and that's just the first of several eco-friendly features. Another is the top's antibacterial properties, which mean less washing is required, and a third is Tribe Sports' Buy One, Get One Tree scheme, which sees the company plant a tree for every order made. The tee also excels performance-wise, with the lightweight, wicking material keeping you cool on the run.
Buy from Tribe Sports (opens in new tab) | £48 (currently reduced to £36)
dhb Aeron Short Sleeve Run Top
(opens in new tab)
If you can't stand to have a stitch more material on your back than is absolutely necessary when running, this ultra-lightweight T-shirt is a great choice. The mesh back and wicking fabric help you keep your cool on hot runs and ensure the tee dries out absurdly fast.
Buy from Wiggle (opens in new tab) | £30 (currently reduced, £15-£24.99)
---
More Men's Running Gear
Sign up for workout ideas, training advice, the latest gear and more.
Thank you for signing up to Coach. You will receive a verification email shortly.
There was a problem. Please refresh the page and try again.