The Best Men's Running Tops
By Nick Harris-Fry published
Technical apparel that bridges the gap between T-shirt and jacket to keep you comfortable in cool weather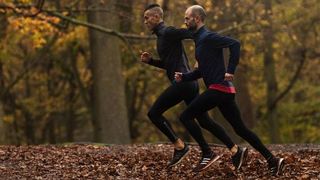 (Image credit: unknown)
Any keen runner's wardrobe should contain four different top layers. Starting from the skin and working out, you need base layers, T-shirts, mid layers and jackets if you want to run through all seasons comfortably. You can find the best base layers, T-shirts and jackets by clicking those links – this page is dedicated to the mighty mid layer.
This is the most adaptable top in your running arsenal. The long-sleeved mid layer can be worn over a T-shirt or base layer, or next to the skin as the only top you need when the temperature isn't quite cold enough to double up or warm enough to just wear a T-shirt. Then, in the depths of winter, the mid layer goes over a base layer and under a jacket.
These varying uses mean the mid layer needs to be breathable and sweat-wicking while also offering some protection from the outer elements. Here are some great tops that tread that fine line perfectly, ordered by price and beginning with the cheapest.
---
(opens in new tab)
Kalenji Run Warm LS Running T-Shirt
A bargain option for days when it's chilly but not freezing. The Kalenji long-sleeved tee is comfortable worn by itself or over a base layer, with fabric that wicks away sweat so it doesn't get too damp during a tough workout.
Buy from Decathlon (opens in new tab) | £9.99
---
(opens in new tab)
BAM Reflex Bamboo Base Layer
BAM calls it a base layer, but this top is too versatile to restrict it to that category alone, and the eye-catching design means we'd rather have it on full display anyway. The bamboo material is soft and warm enough that this top is all you'll need to wear on mild or even quite chilly days, and it has antibacterial properties so you can use it for several runs without smells developing.
Buy from BAM (opens in new tab) | £44
---
(opens in new tab)
This is one of the softer polyester tops we've ever worn, and its cosy feel is only enhanced by the thumb loops hidden on the inside of the sleeves. The Dash ½ Zip pulls off the trick of not feeling suffocating while you run thanks to mesh sections under the armpits and that long zip, which offers extra breathability when required. There's a small pocket by the collarbone which is handy for storing a card, though not much else will fit in it and sit comfortably.
Buy from Brooks (opens in new tab) | £50
---
(opens in new tab)
Under Armour Rush Seamless Long Sleeve
This long-sleeved top is great for all kinds of workouts. It has a close but not clingy fit, while the soft seamless fabric is comfortable and carries zero risk of chafing even on your longest runs. The Rush fabric is infused with minerals that Under Armour claims can catch the energy your body emits and reflect it back into your muscles to improve endurance. This claim is hard to verify, but this is just the latest piece of Rush kit that has become a staple of our running wardrobe and that's all down to how much we enjoy using it. So maybe there's something in those minerals after all.
Buy from Under Armour (opens in new tab) | £65
---
(opens in new tab)
New Balance Heat Half Zip
The waffle fleece on the inside of this top is so absurdly cosy that, initially, you will never want to run in it for fear your sweat will tarnish it. Thankfully, having pulled ourselves together, we can confirm that you can run regularly in the top and it will shrug off your sweat without it affecting how comfortable you feel. You'll never want to take it off, though.
The NB Heat can be worn with a base layer, but it's at its best when worn by itself and it will keep you warm even when the temperature drops towards low single digits. There are reflective panels on the front, back and arms for extra visibility, and thumb loops hidden inside the cuff, a design that has convinced us that that's where all thumb loops should be.
Buy from New Balance (opens in new tab) | £65
---
(opens in new tab)
Brooks Carbonite Long Sleeve
The reflective strips all over this top illuminate you like a Christmas tree when light shines on them, which means you'll be far more visible on any night runs – and the strips have been placed in key motion zones specifically to make you more obvious to drivers. The top has a fairly close fit but you can fit a tight base layer beneath it, and it has thumb holes on the cuffs for extra cosiness.
Buy from Brooks (opens in new tab) | £75
---
(opens in new tab)
This is a really interesting top and different to everything else on this list. It's made from PRIMALOFT NEXT insulating fabric, which is a fleecy and soft material that traps heat against the body, but is also so breathable you can see through it. This means it's not the perfect top layer on days when a cold wind can cut through you, but is ideal as a midlayer on freezing runs or worn over a base on mild days when you might risk overheating with a less permeable top. It's also comfortable next to the skin, and the lightweight fabric means you can scrunch it up (or fold it, if you look after things better than us) into a ball to stuff into a small backpack.
Buy from OMM (opens in new tab) | £90
---
(opens in new tab)
The main reason to get this top should be the fact that the delightfully soft and light fabric keeps you warm on chilly days without risking overheating. But that isn't the main reason you'll want it. It's the nifty little window on the sleeve that means you can check the display on your running watch without having to unhook your hands from the cosy thumb holes. As runners who can barely take five steps without glancing at our stats, we like this a lot.
Buy from On (opens in new tab) | £100
---
(opens in new tab)
Iffley Road Thorpe Merino Half Zip Top
This 100% Merino wool top is good for several runs before you need to consider washing it thanks to the fabric's natural odour-resistance properties. We tested this to its limit, wearing it a few times a week throughout the winter, and found it only needed washing a handful of times. Do hang it up between runs though, because no-one likes to start a run damp. It's brilliant at temperature regulation too, so it can make your layering system a lot simpler for much of the British winter – you pretty much just wear this, and only this, until it gets really, really cold.
Buy from Iffley Road (opens in new tab) | £140
---
(opens in new tab)

The material used for this top seems too thin and breathable to keep you warm on cold runs, but we've used it throughout the winter and found it ideal for faster training sessions when you want to keep the chill at bay without adding too many layers. Because it's so thin, the material dries rapidly so if you're doing a hard interval session in the cold you won't feel unpleasantly clammy during your rest periods.
Sign up for workout ideas, training advice, the latest gear and more.
Thank you for signing up to Coach. You will receive a verification email shortly.
There was a problem. Please refresh the page and try again.