Sam Gardner's Q+A
By Coach Staff last updated
Top British X-Terran Sam Gardner tells you how to tame off-road courses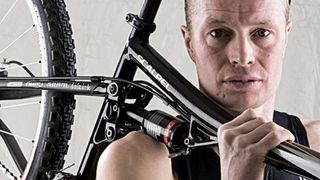 (Image credit: Unknown)
How's training going?
I had the best winter training ever. I didn't have a massive break after last season and I'm doing times I'm happy with.

Are you doing anything differently this year?
I've changed swimming clubs. My last club trained at nine to ten at night, so when you come home you're buzzing with adrenaline and you can't sleep. Now I'm swimming in the morning, which I don't like but at least I'm in the pool at six and done by eight. Last year I wasn't cycling as well as I have done. The year before I won more X-Terra bike legs than anyone, whereas last year I didn't win the bike at many races. I'm going hard on the bike training to get back to winning ways.
Your win in Japan made you the first Briton to win an X-Terra championship race. What was the key to victory?
The course suited me. It was really muddy and quite cold. It was one of those days when nothing went wrong.

Why did you have to retire halfway through last year's world championships?
I was in the form of my life. Physically I'd done everything right. On the day I had a really good swim, then got on the bike and felt good. Everything seemed to be going great but I had problems with my gears and my chain came off. Then I had a crash. I carried on and caught up but finally my chain snapped.
What's the main difference between Olympic distance and X-Terra triathlons?
Olympic distance is all about the swim and the run but X-Terra is all about the bike. If I was training for Olympic triathlons I'd do more running track sessions. In X-Terra the top guys are fast swimmers but the bike is so much more important because you spend 65 per cent of the time on it.

What's your advice for attacking a downhill on the bike?
Relax and look as far ahead as possible. Look at the path you want to take, not at the obstacles, because if you look at the obstacles then you'll veer towards them. Remember to bend your arms and legs to increase the effect of your suspension.
How do you prepare for the unpredictable X-Terra courses?
There are certain things you can't prepare for. I'm racing in Saipan in a couple of months and the course takes you through caves made in the Second World War. What can you do in England to train for that? In Guam, you've got to run 2km down a river. You can't train for that in England in February. The best you can do is hard hill reps off road and don't bother doing 400m track repeats because X-Terra's more about strength than pure leg speed.

How do you establish a rhythm on the run?
It's hard because there are points where you can barely walk and your heart rate is all over the place. There's one race where you have to climb down rocks on a rope, so you can't get a rhythm. You need to train by preparing yourself for changes of heart rate, so don't train with an even pace.
What's the best way of running up and down hills?
The old theory for running downhill said you had to stride out. Now coaches say don't do that because the braking effect puts stress on your muscles - take short steps and kick your heel up behind you instead. When you're going uphill, pump your arms. Your legs will automatically follow. When you're flagging, sometimes it's easier to concentrate on pumping your arms. Also keep your stride short.

How do you refuel?
In hot races I use a hydration backpack because when it's technical it's hard to ride one-handed and drink.
Do you have any race day rituals?
I suffer badly in the cold and sometimes the starters will hold you for a few minutes in the water when it's freezing. My tactic now is to do my warm-up on land and stay out until the last minute, even if I lose a few seconds when the gun goes.
Not quite an X-Terra, our Rough Track Triathlon (opens in new tab) but Gardner's tips will certainly help you on the day.
Want tips for a more conventional triathlon? Then read our exclusive interview with Olly Freeman (opens in new tab).
Want more expert triathlon advice? Then subscribe to Men's Fitness magazine (opens in new tab), we'll give you three issues for £1!
Extra info
Sam Gardner

Age: 33

Event: X-Terra (1,500m swim, 30km mountain bike, 11km trail run)

Achievements:

2008 Winner, X-Terra Japan

2007 2nd, X-Terra Guam

2007 2nd, X-Terra Saipan
Coach is the place to come for all your health, fitness, and personal wellness needs.
Sign up for workout ideas, training advice, the latest gear and more.
Thank you for signing up to Coach. You will receive a verification email shortly.
There was a problem. Please refresh the page and try again.