Olly Freeman Q+A
By Coach Staff last updated
Top Olympic distance racer Olly Freeman on winning swim fights, time-savers and the joys of Bargain Hunt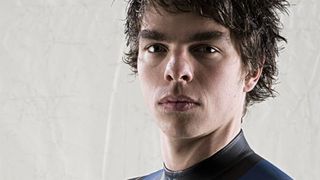 (Image credit: Unknown)
There's a new structure to this year's International Triathlon Union race series. How have things changed?
We used to have a separate world championships and ITU World Cup series. In the new Super Series there are seven events and one grand final, with your best four races plus the final deciding who's the champion.

Why the shake-up?
They never quite got the World Cup circuit right. There were too many races and none, apart from the world championships, were big enough for everyone to get together. Now you'll have eight races a year where it's pretty much the top guys in the world.
Is that better?
It's going to work better but it will be crazy because the Olympics is still a one-day race. In the next four years we won't have a single race as concentrated as the Olympics, because now the world champion is the best from April to October as opposed to the best on one day. It will make the Olympics more unpredictable.

Do you always race to win?
You always go out to win but you can't peak for six months of the year. You want to be 95 per cent for the Super Series races and 100 per cent for the grand final.
What are your hopes for this season?
I'm getting bigger and stronger (opens in new tab), and more experienced. I got in awesome shape for 2008 and had the worst race of my life on the worst day possible - the Olympic qualification.

What happened?
I get asthma and it got worse just before the qualifiers but I didn't realise what was going on. I got re-tested three days after Madrid [where the race was held] and had to change my medication. It was just annoying that I hadn't caught it two weeks before.
What has that done for your appetite for 2012?
I can't wait. It's going to be a massive ask just to get in the team, let alone win. Anyone in the GB team for triathlon in 2012 is going to be a medal contender.

It will be a new level of pressure and attention. Is that intimidating?
I hope not. Being in the [pre-Olympic] camp in Korea and seeing what the high-pressure environment does to people was quite weird. It's easy to break mentally. It's hard to say what it will be like because we've never had anything like it before, but I'll prepare for it.
What's the best response to being elbowed in the face during the swim?
If someone is all over you, often the best way is to give them a swift clip round the ear. But you don't want to start a fight because it's not going to end well for either of you.

What's the easiest way for an amateur to shave a couple of minutes off their time?
People focus too much on equipment and not enough on themselves. Normally, the thing people find difficult is the swimming because it's down to technique. Spending money on a stroke clinic instead of on making your saddle 30g lighter will make a much bigger difference.
What can amateurs learn from pros?
A lot of people don't have much time to train so they think, 'I've got to do a really hard session to get the most out of the time.' But constantly doing hard sessions won't help you improve. Do the steady stuff over winter to build up a base of fitness, then work on speed in the spring.

Should you focus training on your strongest or weakest discipline?
The weakest, because if you put in time on your strongest discipline it won't improve that much.
What's your top training secret?
Making sure that if I've got a hard session I can do it hard. Often people do the easy stuff too hard so when they get to the hard sessions they're too tired to hit the pace they're meant to be doing.

How do you relax?
I can't do anything that energetic between sessions because I'm so tired. If training is hard I'll lie on my sofa watching telly. I can't reach for the remote so I just have to watch Bargain Hunt. I say 'have to' but I love it really. And Homes Under The Hammer. Best programme ever.
Freeman's advice will help you perform better than you thought possible when you compete in the Men's Fitness Rough Track Triathlon (opens in new tab).
Check out our exclusive interview with two-time Ironman world champion Chrissie Wellington (opens in new tab).
Want more expert triathlon advice? Then subscribe to Men's Fitness magazine (opens in new tab), we'll give you three issues for £1!
Extra info
Olly Freeman
Age: 23
Event: Olympic distance (1,500m swim, 40km bike, 10km run)
Achievements:
2008 6th, ITU World Cup rankings

2008 4th, British national championships

2006 Winner, Blenheim Triathlon

2005, 2004 Junior world duathlon champion

2005, 2004 Junior European triathlon champion
Coach is the place to come for all your health, fitness, and personal wellness needs.
Sign up for workout ideas, training advice, the latest gear and more.
Thank you for signing up to Coach. You will receive a verification email shortly.
There was a problem. Please refresh the page and try again.