Men's Fitness Friday Challenge 29/10/10
By Nick Hutchings published
Four bastard-hard moves, a merciless 300 reps. As fast as you can. Here's the 36th Friday Challenge.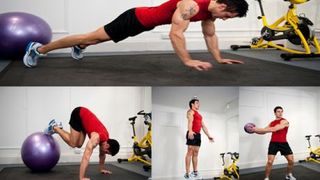 (Image credit: Unknown)
Bang!
Do three rounds of the following moves as quickly as you can…
- 10 ballistic offset press-ups
- 20 gym ball jackknives
- 30 squat jumps
- 40 medicine ball Russian twist (5kg if you're normal, 10kg if you're hard to the core)
You'll need to warm up before you get started so try this Men's Fitness Friday Challenge warm-up we've devised.
Don't forget to record how many reps you managed to do because we want you to stick your numbers in a comment box at the bottom of this article.
Oh, and feel free to use the comment box to tell us what you think about this Men's Fitness Friday Challenge and suggest challenges of your own.
If you want to see a step-by-step guide to the challenge, click here. Good luck with this Men's Fitness Friday Challenge and be sure to check back next Friday for the 37th one!
This Men's Fitness Friday Challenge was shot at London personal training studio Club 51 (opens in new tab).
Nick Hutchings worked for Men's Fitness UK, which predated, and then shared a website with, Coach. Nick worked as digital editor from 2008 to 2011, head of content until 2014, and finally editor-in-chief until 2015.
Sign up for workout ideas, training advice, the latest gear and more.
Thank you for signing up to Coach. You will receive a verification email shortly.
There was a problem. Please refresh the page and try again.