Men's Fitness Friday Challenge 02/07/10
By Coach Staff published
Push and pull your way through the 19th Men's Fitness Friday Challenge.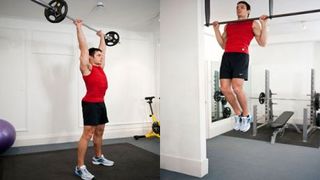 (Image credit: Unknown)
Gang,
This week's Friday Challenge won't take you as long as last week's centurion-inspired punisher, but that's not to say you're in for an easy or a dull ride. Here's how it works:
Do as many rounds of the following moves as you can in 10 minutes...
- 10 clean and presses (use a weight that's one-third of your bodyweight)
- 5 pull-ups


You'll need to warm up before you get started so try this Men's Fitness Friday Challenge warm-up we've devised.
Don't forget to record how many rounds and reps you got through because wewant you to post how you did in the comment box that appears at the bottom ofthis article.

Oh, and feel free to use the comment boxes to tell us what you think about this Men's Fitness Friday Challenge and suggest challenges of your own.
If you want to see a step-by-step guide to the challenge, click here. Good luck with this Men's Fitness Friday Challenge and be sure to check back next Friday for the 20th one!
This Men's Fitness Friday Challenge was shot at London personal training studio Club 51 (opens in new tab).
Coach is the place to come for all your health, fitness, and personal wellness needs.
Sign up for workout ideas, training advice, the latest gear and more.
Thank you for signing up to Coach. You will receive a verification email shortly.
There was a problem. Please refresh the page and try again.