Train for an ultra marathon in just three hours a week
By Damian Hall published
Damian Hall finds out if a new running technique can get him through an 80km ultramarathon on half his normal training volume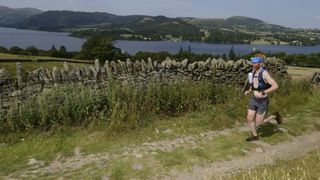 (Image credit: Unknown)
I'm too addicted to distance running to take a break from it – it's what keeps me sane. And we all have time constraints. But with work and a young family, I'm constantly short of time to train – and I've certainly no chance of training enough to make myself the next Dean Karnazes. Luckily, I met Shane Benzie from Running Reborn.
The common training philosophy amongst ultrarunners is that the farther you run in training, the stronger you'll be on race day. But Shane, a Chi Running instructor, ultramarathon runner and founder of the T60 and T184 races, believes it's about how you run, not how much.
'Good running technique is key and so often overlooked,' he says, when we meet for a session. 'An efficient, natural running style enables you to run for miles and miles, because your muscles are hardly being stressed. The best distance runners in the world – Mo Farah, Wilson Kipsang – don't have legs swelling with muscles. They run cleverly, so they don't need them. Plus muscles are extra weight that in turn needs fuel.'
Check out the kit that Damian used to complete his ultra marathon.
Hundred club
It's an ultrarunner's badge of honour to do 100-mile (161km) weeks. 'But that's making them less, not more, likely to succeed at their races,' says Benzie. 'If you bang out 100 miles with bad technique, you're doing yourself more harm than good. All running injuries can be traced to bad form. You don't drop out of a race because you're too tired. It's usually because something's broken.'
Benzie videos me running and I naturally assume his analysis will include the phrases 'wow' and 'just like a gazelle'. Instead he chuckles kindly, says something about 'ambulance posture' and we set to work.
My new running style, Benzie says, will be more natural and more efficient. If I can adopt the Running Reborn form, my body will use its natural balance, skeletal cushioning and fascia elasticity. It will stress my body less and therefore allow it to last longer in a race.
Benzie suggests I could train for ultras on a minimum of three hours a week (I've been used to doing at least double that) and continue to finish in the top quarter of the field. I'm dubious that running less would enable me to run further, but I want it to work.
The popular Lakeland 50 – 50 miles (80km) across the lumpy Lake District – had been on my wish list for some time. I made promises I only half-believed to the wife about training not taking over family time and signed up.
Style makeover
weird at first. With smaller steps, I get the sense I'm going slower. But when I test my old and new styles over 1km, my newer form is definitely quicker. I try a local 10K road race and win. All right, it's mostly old codgers, but I concentrate purely on my form and start to believe this endurance witchcraft might actually work.
Because I'm running less I feel fresher and really push my pace in training. I do runs where I leave the Garmin behind and don't think about time or distance, only form. When my new technique works, it feels effortless, like I'm floating. However, it becomes more difficult when I grow tired and slip into bad habits – heelstriking, leaning forward, arms windmilling. But gradually the style begins to feel natural and I adopt it more instinctively.
The new running form has improved my speed, but will it improve my stamina? I still worry I haven't got enough distance into my legs. Normally I'd have done a 45km run in preparation for an 80km race, but this time I haven't even found time for a 30km one.
The heat is on
The race doesn't start well. I foolishly try to keep up with the sponsored runners at the front and they're super-quick – doing sub-four-minute kilometres. Then just as I drop my pace, the hills start and the heat hits me. Runners are passing me.
I feel OK at the first checkpoint, 18km in, but then there's a horribly steep climb during the hottest part of the day. Motivation dwindles, I take a wrong turn, and then I run out of liquid. Reaching the second checkpoint is a big relief.
The climb out is another cruelly steep one, but others are suffering too. I pass a runner swaying across the trail. Fatigue brings negative thoughts and I scold myself for thinking I could run a tough ultra on so little training. But I try to maintain good form and – when no-one's near – whisper, 'Pump arms, short strides, stay tall'.
In Ambleside, roadside cafes and pubs are packed and people cheer as we run through the village. I feel like Mo Farah. I'm brought back to Earth shortly after, when a five-year-old boy decides to race me for 100m – and I can't get near him. All right, you little scamp, I'm tired and sore, don't rub it in.
The cruellest thing about ultramarathons isn't the distances, the dark or the blisters. It's the sofas. Checkpoint six, Chapel Stile, has an inviting, large tent with two luxurious sofas. I look at them like a fresh-to-port sailor eyeing a brothel. But I know if I sit it'll be a long time till I get up again. I quickly knock back a delicious vegetable soup and jog on.
This is the end
With 16km left, I know I can finish. But I want to finish strongly – and I feel stronger than I usually would after 60km of running. I can see a group of three ahead of me. I soon reel them in and realise I'm moving more easily and quickly than they are. I target another runner, power up a hill I would normally hike and soon catch him.
I pitter-patter rapidly down the last descent, thankful and surprised my quads aren't trashed. I hammer it down a track, onto a road, then into Coniston. 'Way to finish!' shouts someone.
The crowd claps generously as I sprint under the finish arch, fizzing with adrenalin. I go into the HQ for applause, my finisher medal and, better still, a big pile of pasta followed by ice cream. I'm shocked – in fact, a bit annoyed – at how much energy I have left. My legs aren't as trashed as normal the next day either.
I was never going to win the race against a strong field – but I'm delighted to have come in the top 10%. When I look at the results I see that, out of 600 competitors, I was the fourth fastest on the last section of the race – a clear indication that my new running technique worked.
So it looks like I can in fact be a half-decent dad and a half-decent ultrarunner at the same time. And as they're the two things in life that make me the happiest, that's very good news indeed.
Running Reborn (runningreborn.co.uk) teaches natural and efficient running technique. July's Lakeland 100 and Lakeland 50 (lakeland100.com) is Britain's most prestigious ultramarathon event.
8 things Damian learned from Shane Benzie
Get your arms right and the rest tends to fall into place. They need to be at right angles, close to the body with the dynamic movement to the rear, letting them swing forward naturally.
Stay upright as much as possible, with a slight forward lean from the ankles. Run tall, using your skeleton to support the weight of your body.
Heelstriking increases knee impact – of up to 12 times your bodyweight with each footfall. When you land on your heel you're effectively braking and you're missing out on proprioception from the part of your foot with more nerves than anywhere else.
Instead, aim for mid-foot contact, then your feet work as natural shock absorbers. The quicker your feet move the less likely you are to heel strike and the more efficient your style.
On the flat, pump arms, stay tall, short, fast strides (your cadence). If that seems too complicated, just imagine you're on a unicycle (forward lean, pedal fast).
Runners often let go and fly down hills, taking advantage of gravity, but this can be a big error. In ultras the first muscle to cry out in agony is usually your biggest – your quads. And they've usually been wrecked on the downhills. So it's about damage limitation. Bend your knees slightly and use smaller, quicker steps. It'll feel slower at first, but you're going just as fast and you're much more in control.
Uphills are about economy. You use more energy going uphill, but there's no point in getting to the top full of lactic acid and in need of a lie down. Keep your strikes small and fast, but bring your arms in front of you and swing them hard – imaging you're pulling yourself up the hill on a rope.
Many ultrarunners end up walking parts of the race and the key is not get too lazy with your stride. Try to lift your back foot above the ankle of the other foot as it comes forward, to avoid heelstriking.
Three hours a week ultra training plan
All training sessions should be carried out in full kit and food and hydration should also be simulated, even the technique sessions.
Week
1 1hr technique practice, 1hr threshold run, 1hr hill session.
2 1hr technique practice, 45min threshold run, 1hr 15min hill session
3 45min technique practice, 45min threshold run, 1hr 30min hill session
4 45min technique practice, 45min threshold run,1hr 30min hill session
5 30min technique practice, 1hr threshold run, 1hr 30min hill session
6 15min technique practice, 1hr threshold run, 1hr 45min hill session
7 15min technique practice, 2h threshold run, 45min hill session
8 15min technique practice, 45min threshold run, 2hr hill session
9 15min technique practice, 2hr 45min hill session
10 15min technique practice, 2hr 45min hill session
11 15min technique practice, 1hr threshold run, 1hr 45min hill session
12 1hr technique practice, 1hr threshold run, 1hr hill session
Sign up for workout ideas, training advice, the latest gear and more.
Thank you for signing up to Coach. You will receive a verification email shortly.
There was a problem. Please refresh the page and try again.