The Royal Parks Half Marathon: race report
By Coach Staff published
A first hand-account of this year's Royal Parks Half Marathon from MF reader Simon Freeman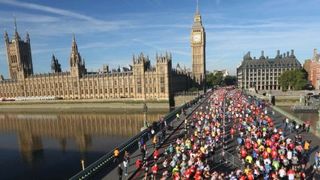 (Image credit: Unknown)
Somewhere between the all-out aggression of a 5K or 10K race and the chess-like psychological and physical battle of the marathon lies the half marathon – too far to be taken lightly and yet not so far you can afford to start nice and slowly, as in a marathon. Half marathons can be glorious blasts that allow you to push yourself along at your lactate threshold, feeling like you are flying while retaining the thrill of a true long-distance race. At worst, they can catch the unprepared and uncontrolled runner out, delivering a knockout blow that turns the later stages into a nightmare death-march.
But none of that really mattered to the runners assembled on the start line of the Royal Parks Foundation Half Marathon on Sunday 6th October – they were just all delighted to have been able to get a place. Because, appropriately for a half marathon in central London taking in many of the great sights and sounds of this great city, there are far more people looking to get a place than there are places available. There was a real feeling that, come what may, the 16,000 people taking part were going to make the most of this glorious opportunity.
As ever with a race of this magnitude, in a city as busy and vibrant as London, organisation is key. And after six years, the team putting the race on got everything right. Runners were invited to take their places in pens which had been allocated based on expected finish time and then released on to the course at staggered intervals to ensure there was no bunching or bottlenecks. The start went flawlessly from the moment that Strictly Come Dancing stars Natalie Lowe and Ian Waite sent the first runners on their way.
The course for the half marathon sees runners passing Buckingham Palace and the Houses of Parliament before heading along the River Thames and then back towards the Hyde Park where the race starts and finishes. All of this means that while there are masses of sights to distract those looking for something to take their mind off the effort of running 21km, the course is also flat and potentially very fast for those looking to achieve a decent time.
The final cherry on the cake was the race village adjacent to the finish line. By the time the runners were streaming through the gantry over the timing mats, the sun was out and a real party atmosphere was in place. The charity tents welcomes their runners with open arms, tea, cake and massage tables while other runners take advantage of the tasty food available. And for those who still had the energy there was the Activity Zone where giant games, a mobile climbing wall and FitSteps were on offer.
The Royal Parks Foundation half marathon is now a well-established race and one that delivers all the best that London has to offer – a great atmosphere, superb organisation, great support and a course that's both flat and fast.
About Simon Freeman
Simon is a runner with a marathon PB of 2hr 37min. He took up the sport seven years ago after quitting smoking and a generally unhealthy lifestyle, and now runs a social media marketing consultancy for running and endurance sports brands called Freestak. He blogs at simonfreeman.co.uk (opens in new tab) and can be found on Twitter as @simon_freeman (opens in new tab).
Coach is the place to come for all your health, fitness, and personal wellness needs.
Sign up for workout ideas, training advice, the latest gear and more.
Thank you for signing up to Coach. You will receive a verification email shortly.
There was a problem. Please refresh the page and try again.