Go on an #ArtsRun and see London in a new way
By Coach Staff published
Get involved with Equinox's Run Club Series and go on an #ArtsRun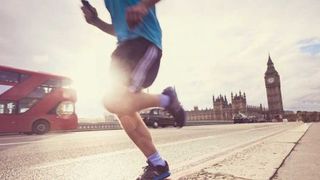 (Image credit: Unknown)
With the marathon fresh in the minds and legs of Londoners, classy gym chain Equinox presents the latest in its Run Club Series – a cultural guide to running in the capital. Partnering with #ArtsRun founder @runlikeelle, the route takes you on a tour of London's leading arts institutions as well as some of London's most famous and beautiful landmarks. This is running for the modern era, bridging the gap between fitness and culture.
The run begins at Equinox, Kensington, and visits the Serpentine, V&A, Natural History Museum, Saatchi Gallery, Queen Victoria Memorial, Royal Albert Hall and more. To bring the #artsrun to life, Equinox has teamed up with London-based artist Guillaume Cornet to map out the route with his unique illustrations.
That's all well and good, but an iconici landmark isn't enough to distartc you if you've got a dodgy knee or are totally crashing on the route. With that in mind we ask running specialist and Equinox personal trainer David Warden how best to prepare your body for the rigours of running.
What strengthening exercises do you recommend for running?
Start by building solid foundations of strength throughout your muscular system focusing on movement patterns specific to running. Exercises that challenge balance, coordination and control will lay the groundwork and foundations for loading exercises. Runners require strong, balanced musculature around the hips and core but full body workouts are very useful, after all running is a full body exercise that when performed outside can be much more dynamic than treadmill running. Recommended exercises include lunges which can be performed in all three planes of motion to promote hip stability, dead lifts to give posterior chain strength and squats to further strengthen the body as a full system or chain of muscles.
What should you eat before a run and how long before?
Different runners require different fuels and quantities. My advice is to have a nourishing diet as running long distances can break the body down. By nourishing it with good food your body will stay running strong. During a run your body will burn carbohydrates so if it is an early run you are going for make sure that for breakfast you have some oats and maybe some fruit. The body will also breakdown fats during the run and therefore are a necessary source of energy. Nuts are a great example of this. Therefore try a small bowl of porridge with fruit and nuts on top. I recommend giving at least 1-2hrs for digestion before going running.
What do you recommend for aches and pains after a run?
After a run it is important to stay warm so either have a shower or bath and fuel up and hydrate. It's important to replenish the body with the nutrients that it needs to grow and repair. Protein is essential for muscle repair and is therefore key to recovering quickly. Delayed onset muscle soreness (DOMS) can set in up to 24, 48 and 72 hours after exercising but can be helped with gentle massage and light, non strenuous activity.
Coach is the place to come for all your health, fitness, and personal wellness needs.
Sign up for workout ideas, training advice, the latest gear and more.
Thank you for signing up to Coach. You will receive a verification email shortly.
There was a problem. Please refresh the page and try again.