Scott Meenagh: From Paratrooper to Para-Athlete
By Matt Huckle published
"People used to ask if I thought about killing myself. Now they ask what my time is over 1,000 metres"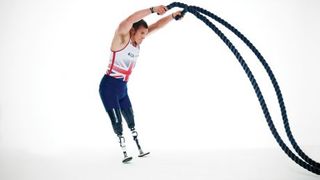 (Image credit: Unknown)
It's a miserable, wet morning when former paratrooper Scott Meenagh walks into the photo studio wearing a hoodie and shorts, his prosthetic legs on display. He's got the quiet swagger of a man who knows he's the fittest man in the room and doesn't need to shout about it either.
Let's get one thing clear from the start: this man doesn't see himself as a victim.
He's well aware his legs attract attention but rather than getting impatient or annoyed with people, the 26-year-old Meenagh tries to see it from their point of view. "When people stare at me I don't get offended. It might be the hundredth time for me but for many people it's a new experience. You have to treat that with respect. If I had seen someone with no legs I wouldn't be staring because I think they're a freak, I'd be staring because I was thinking, 'Wow, those things are really cool'. People are curious so I just take it as a compliment." Meenagh smiles and nods at his state-of-the-art prosthetics. "Besides, why would you hide these bad boys?"
Meenagh may joke a lot – to put others at ease, perhaps, as much as thanks to his own sense of humour – but he never trivialises the incident in Afghanistan that robbed him of his legs at 21. "I remember it all, in HD," says Meenagh. He was part of a recovery operation to find the kit belonging to a soldier injured by a roadside bomb when, in a cruel irony, he stepped on another explosive. "I thought I was going to die."
When a man has faced his own mortality so young, it's little wonder a few stares roll off him easily. Even when talking about his injuries, he has the kind of enthusiasm and attitude you often find in squaddies – in fact, the only time the former paratrooper looks slightly fazed all day is when Laura, our hair and make-up artist, gets him ready for the camera ("the boys are going to give me so much stick about this!"). Meenagh isn't interested in preening. He's here to get things done.
If the dice had fallen differently, we could easily be talking about Meenagh the rugby player. He played for Scotland's under-18 team, but a sense of duty nagged at him. "I didn't want to get to 30 or 40 and become one of those guys who sits in the pub and goes, 'Oh yeah I was going to go but I didn't get around to it'. I didn't want to regret it."
If he was going to join the army, he was going to do it right. "I wanted to be a paratrooper because they're the hardest to get into," says the Scot, who hails from Cumbernauld in North Lanarkshire, a few miles north-east of Glasgow. Meenagh didn't like the idea that there were others better than him so he was right at home with the 2nd Battalion Parachute Regiment. Of the 64 men who attempted selection only 14, including Meenagh, qualified. "The way I saw it, if I was going to go to war, I may as well be around the most elite professional soldiers." The flip side is that being part of the elite meant he'd be in the riskiest situations.
Recalling the explosion that took his legs, Meenagh says everything was in slow motion for a few moments after the blast before suddenly snapping back to normal. That's when the training kicked in. "I started doing first aid on myself. You stop looking at them as your legs. It's bleeding, so you put a tourniquet on it," Meenagh says with astonishing calm.
Despite the horrific circumstances, it was at this point that Meenagh's desire to be around the best paid off. His squadmates jumped into action, applying first aid even thought they were all dealing with injuries of their own. One of the soldiers had been blinded by the blast yet stayed calm enough to make sure Meenagh was on the stretcher and carry him out. His vision took several days to return.
You'd forgive Meenagh a little self-pity, but that's not how he dealt with things. Incidents like these take a long time to come to terms with, and the healing process isn't just about the physical injuries, but he never stopped looked forward. "I just started thinking logically about what the future was going to look like, what I was going to do, and started breaking that into little bite-size chunks. It's amazing how natural walking with prosthetics becomes when it's the only option you've got."
Sadly, Meenagh's story isn't unique: of all the military personnel medically discharged since the Afghan campaign started in 2001, 145 have endured amputations. Meenagh never talks of regret, though – for him, being in the paras was the best job he's ever had, and when asked how he feels about the war, he says that's not for him to say before quoting a line from Tennyson's The Charge Of The Light Brigade: "Theirs not to reason why, theirs but to do and die." For Meenagh it was just something that happened at work one day.
"The minute I was given prosthetics, I said, 'These are my legs now so I'm going to use them or I'm going to suffer'," says Meenagh. He actually uses two pairs: a set of everyday legs, which hinge at the knee for walking, and a set of "stubbies", which are shorter and rigid, for playing sport.
Sport was Meenagh's goal from the start of his recovery. On his first day in hospital he was told he'd never play contact rugby again. That may sound like a given but Meenagh says it was something he needed to hear so he could turn his attention to sports he was able to play. "I thought water and horses – let's go kayaking or riding," he says. "I didn't really worry about what I couldn't do." It's this attitude that led Meenagh to try hockey, skiing, kayaking, canoeing, water skiing and climbing. "I go cliff jumping in my stubbies," he adds with a grin. "The only thing I can't do the same as before is run up stairs. Life's pretty good."
He was determined to avoid wallowing and to remain optimistic, but Meenagh admits it was hard to stay as positive as he'd always been. "I was stagnant. I didn't have a drive, I lacked that infectious optimism and eagerness that the paratroopers talk about having. I'd become a yes-man, jumping through hoops for charities. I was helping other people but not myself."
Then he picked up a pair of oars and discovered rowing.
"I was rubbish at it," he says, laughing. "But that's why I liked it – I wasn't used to failing." As he had with the army before, Meenagh chose the most physically demanding option possible. "I loved the feeling of coming home and just collapsing on the couch. That's something I hadn't felt since I was a soldier. I used to walk into every room and think, 'I'm the fittest and strongest person here'. With rowing, I got that back. I got that swagger."
He says he was fed up with being known as the guy who lost his legs. "I wanted to redefine myself, I wanted to be known for something else, I wanted to be known as an athlete," Meenagh says with vehemence.
When the Invictus Games came along in 2014, Meenagh got that chance. After Prince Harry saw the 2013 Warrior Games in the US and realised the incredible effect they had on the servicemen involved, he resolved to launch an international version that would make the conversation about wounded veterans focus on something other than sympathy. The first Games took place in 2014 in London – two years after the 2012 Paralympics changed the way people see disabled athletes – and this year the event heads to Orlando, Florida, in May.
For Meenagh, who'd become accustomed to appearing in the media, it was the first time the focus had been on his athletic ability. "The media used to want a deep, dark, teary-eyed soldier," he says without any bitterness. "I'm happy to talk about why I've got a fire in my belly, but it's not the whole story." The change Invictus has brought about has been a significant one for Meenagh. "People used to ask if I thought about killing myself. The Invictus Games blew that away. Now they ask what my time is over 1,000 metres."
The Games shine a light on the indomitable human spirit. Invictus, which means unconquerable in Latin, is the title of a poem written by William Ernest Henley in 1888 about strength in adversity. Think of Henley's line "My head is bloody, but unbowed" while watching the 2016 Invictus Games and it's hard not to feel stirred as men and women like Meenagh give life to the words.
Meenagh won two indoor rowing silver medals in 2014, including one in a thrilling race against Edwin Vermetten in front of a roaring London crowd. The Dutchman had gone ahead early, leaving Meenagh with two options: fight for position now and risk burning out, or attack at the end. He picked the latter and waited for the perfect time to strike, which he describes as "200m from the finish line". It was a gamble but Meenagh trusted that his power would be too much for Vermetten. He was right, and he edged past him into second place. In the end he won by just 7m. "That's a single stroke in a four-minute race," says Meenagh with satisfaction.
One reason Meenagh is so proud of his success is that it's of his own making. As well as being the man wielding the oars, he's had to find ways of training that suit him. "No two double amputees are the same. People with the same injury will have different limiting factors," explains Meenagh, pointing out the scars on his arm, which affect his grip in long sessions. "Every programme and every single exercise has to be completely individualised.
"The Invictus Games for some people is Everest," he says, "but I've got my eye on going to Rio [for the Paralympics] this year. I'm working very hard but the squad I'm in is extremely successful. I've got my work cut out. By the time selection comes, whether I go or not, if I can say I've dotted every i and crossed every t then no matter what happens, I'll be happy."
As Meenagh leaves, we press him on the question he wants people to care about: what is his time over 1,000m? Meenagh answers with a mischievous grin, "That would be telling."
The Invictus Games take place in Orlando, Florida, from 8th to 12th May 2016 at the ESPN Wide World of Sports Complex. Visit invictusgamesfoundation.org (opens in new tab). Help for Heroes is supporting the Ministry of Defence on the training and selection of the UK Armed Forces team for 2016.
Matt joined Men's Fitness in April 2014 as features writer after spending several years writing for a luxury lifestyle magazine, swapping champagne and canapés for cardio and leg days.
Matt is a keen Thai boxer and his interest in fitness took off when he made the decision to compete semi-professionally and had to get in shape. Training aside, he says the worst thing about fighting is resisting the urge to apologise all the time.
Oh, and he's still on the look out for a decent fight nickname after being told 'The Best' was reaching a little bit…
Favourite move: Any kind of squat variation
Favourite sport: MMA and Muay Thai kickboxing
Personal best: Competing in a semi-pro K1 bout
Targets: Sub-1hr 40m half marathon and winning a fight by KO
Scariest MF moment: Writing about myself in the third-person for this profile
Favourite MF website story: Spider-Man workout (opens in new tab)
Favourite trainer quote: 'Hands up, chin down' – every striking coach ever
Biggest gym crime: Avoiding the weights and sticking to the treadmill
Sign up for workout ideas, training advice, the latest gear and more.
Thank you for signing up to Coach. You will receive a verification email shortly.
There was a problem. Please refresh the page and try again.