Healthy Specimen: John Maloney
By Coach Staff published
The man from Maxus on losing two stone and faking it on the beach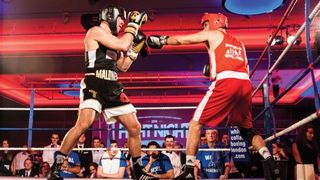 (Image credit: Unknown)
In This Series
Healthy Specimen: John Maloney
What's your most impressive personal best?
Raising £150k in one night for the Head & Neck Cancer Foundation last year in November 2015. It was a White Collar Boxing event, I lost over two stone during the training camp for my fight and my best PB during training was running three miles in 18 minutes.
Have you ever secretly impressed yourself with a feat of strength?
Training for the boxing event showed me just how much the human body is capable of when pushed to its very limit, and when you apply 100% dedication and discipline over a sustained amount of time.
Have you ever pulled a muscle in less-than-heroic circumstances?
When proposing to my fiancée last year I faked pulling my calf muscle. We were walking along the beach first thing in the morning, I was desperately trying to find a quiet spot with no one around but this random bloke was walking behind us for about five minutes…I faked a calf strain so that he would walk past us - thankfully it didn't spoil the moment.
What's the longest you've gone without alcohol in the name of good health?
In the run up to the fight I abstained from all alcohol for five months. That nearly killed me more than the training did.
Have you ever "let yourself go" at any point in your life?
My first couple of years working in media, I comfortably put on about two and a half stone with all the lunches and nights out.
Do you take the stairs or the lift?
Always lift.
Which excuse for not going to the gym are you most ashamed of?
A bit of a twist on this one. When I was a semi-professional footballer we were doing quite an intense pre-season training session at Greenwich Park doing hill sprints. I'm ashamed to say that I was so exhausted half way through that I lied about being diabetic to get out of the session – I even got a team mate to drive me and my car home.
What would you rather we didn't see in your fridge?
There is always a box of Fab ice lollies in the freezer for me and my fiancée loves Charbonnel et Walker Champagne Truffles so I'm constantly tempted by those whenever I open the fridge.
The next Media White Collar Boxing Charity Event will be taking place on November 16th this year, at the Park Plaza Hotel Westminster Bridge. If you are interested in taking part, please contact John Maloney at Maxus.
Coach is the place to come for all your health, fitness, and personal wellness needs.
Sign up for workout ideas, training advice, the latest gear and more.
Thank you for signing up to Coach. You will receive a verification email shortly.
There was a problem. Please refresh the page and try again.