Men at Their Best: Matt Scheckner
By Coach Staff published
The Executive Director at Advertising Week on the need to keep people smiling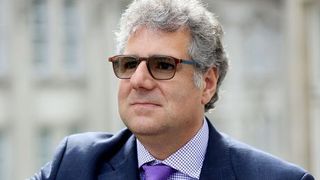 (Image credit: Unknown)
In This Series
Men at Their Best: Matt Scheckner
Who do you most admire in the industry for their contribution to a positive workplace?
Someone who has done a phenomenal job is Ogilvy, who have just moved into the Sea Containers building. They had a great home court advantage, and they've created something that really works environmentally for their employees. I think they've veered away from the standard, generic, bland, could-be-a-law-firm type of look, and instead they've embraced their environment. They're on the river and have lots of common spaces, lounges and interesting meet-up areas. They've also got really good, healthy stuff for everybody to eat – they've just created an environment that is very conducive to productivity and creativity and as clients visit they'll come off really well.
Who sets a great example for handling pressure in the workplace?
How you react when things don't go your way is a critical measure of a senior leader's ability to manage and lead. Not everything will go your way – learning to deal with it happens with time and somebody who's been around longer will do a better job in those situations. One of the things that we need to get back to as a business culture is the notion of looking people in the eye, sitting down face to face. The technology that means you can stay connected 24/7 often replaces that now. You're a better leader if you're spending more time in the field with clients, customers, colleagues, partners; and I think there's no replacement for that.
What's the best advice you've received on stress management?
I'm definitely a hip-shooter, but I think a good piece of advice is "Take a deep breath before you hit send." I think just being really transparent is probably the best piece of advice I ever received. Nobody wants to give somebody bad news, but if something doesn't go right, there's a real loss of accountability nowadays – nobody wants to admit they're wrong. I think that creates more stress and more problems. Sometimes it's OK to say "You know what? I got that wrong. That was my mistake."
Who has helped you most with maintaining a work/life balance?
Someone I really admired was a guy named Bud Greenspan, who passed away a few years ago – he really invented the genre of the sports documentary and did all the official films for the International Olympic Committee for many years. Bud said: "90% of the time, people like to talk about the 10% that's bad, but I spend 100% of the time talking about the 90% that's good." I think there's a real lesson there. I also worked for a guy named Don Smith who also passed away unfortunately. He was a publicist for the New York Giants, and he taught me to always keep your sense of humour on the frontburner, and if you're not laughing for a good part of the day, or making other people smile then you've got the wrong motivation. There's a great value in Adweek Europe because we make a great deal of people feel good about the business they're in.
Who has been responsible for the best office environment you've experienced?
I think Kathleen Saxton at The Lighthouse Company has created a really terrific culture. She's as driven as anybody I know, but I think she just really gets the importance of environment and culture, so definitely her.
Coach is the place to come for all your health, fitness, and personal wellness needs.
Sign up for workout ideas, training advice, the latest gear and more.
Thank you for signing up to Coach. You will receive a verification email shortly.
There was a problem. Please refresh the page and try again.