My Fitness Fingerprint: Chris Good
By Coach Staff published
The President of the Estée Lauder Companies UK & Ireland talks boxing and business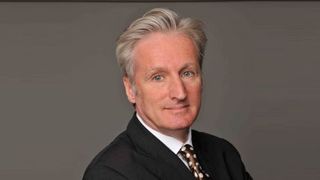 (Image credit: Unknown)
In This series
My Fitness Fingerprint: Chris Good
What was it like stepping into the ring for the first time?
Exhilarating and exhausting, in terms of not quite knowing what was going to happen. In the bout before me, the guy got knocked out within ten seconds, which is quite unusual in White Collar Boxing, so there was a certain amount of trepidation in the run up. Once you throw your first punch and get punched for the first time, it all sort of settles down a bit. But it was an incredible buzz, which is why I'm continuing to do it – that buzz carried on for a long time afterwards, too.
To me, boxing is almost the perfect combination sport of cardio, strength, overall fitness, speed of reaction and also very importantly, learning something. With jogging you don't learn anything, you just keep going, but with boxing, each time you're in the ring you learn something and get better – it's almost like a game of chess with your opponent. It also relates to business in the sense that you may plan to go into the ring in a certain way, but the reality of what you find when you get there can be very different, and if you don't adapt to that reality you can find yourself beaten.
How would you rate your fitness on a scale of one to 10?
I think it's probably at the upper end of the scale for 56-year olds. I fancy myself in the ring with anyone over 50, but unfortunately I tend to fight guys that are in their thirties or younger. I played professional football when I was much younger and funnily enough, I'd say I'm as fit now as I was then. I'm absolutely on the good side of eight. It's down to the guys at Ringtone Boxing Gym (opens in new tab) – they're fantastic. It's a real boxing gym and I've never known fitness regimes like it.
How important is health and fitness to you?
It has become extremely important. Years ago I could get by on the odd game of tennis, football or a round of golf, but now I'm in a situation where if I'm not doing something every day then I feel like I'm not keeping up with doing what I should be. It's akin now to the working environment – we've just moved offices and we have yoga classes and gym memberships. I think the working life and fitness environments are really coming together in a very harmonised fashion – one begets the other. When we designed our office that was top of mind for us.
How is your fitness fingerprint unique to you and your career?
It's probably quite unique for someone of my age – and someone who sells lipstick for a living – in the sense that I've chosen a contact sport like boxing to keep fit. I bore them all silly at the office talking about it. I try to do two weekday nights a week, and then always Saturday and Sunday. Because of my job, there are the inevitable dinners and social engagements, and so I really go all-out at weekends. Once it becomes important to you, it's amazing how you find the time – if you told me that I had to go on a treadmill for 45 minutes every day, I guarantee I would never find the time, but tell me to go to the gym and do some sparring for an hour, and I'll definitely find the time…
Coach is the place to come for all your health, fitness, and personal wellness needs.
Sign up for workout ideas, training advice, the latest gear and more.
Thank you for signing up to Coach. You will receive a verification email shortly.
There was a problem. Please refresh the page and try again.