Who AP McCoy Likes for the Grand National
By Kate Johnson published
The greatest ever jump jockey, now retired, will take part in this year's Grand National on two legs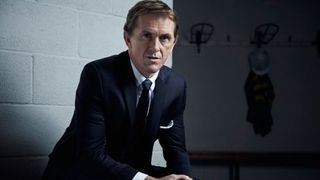 (Image credit: Unknown)
Racing is hugely competitive, but who went out of their way to help you when you were starting out?
I always worked for successful people; that's a big part of it. [Trainer] Billy Rock made me believe I could be a jockey. I went to his yard on school holidays and weekends from aged 13 to 15. He trusted me – he'd have me ordering staff about, which was embarrassing. [Trainer] Toby Balding showed me I'd have to leave home, and got me an agent who was the biggest influence on my career, numerically. However much help you get, though, you need to want to do it for yourself.
Being a jockey is unbelievably demanding. Up early, home late, out in all weathers, no food – which jockeys handled this regime most cheerfully?
Everyone at the top, like Ruby Walsh and Richard Johnson, handles it very well. It's dangerous and hard, and that's a good thing – you never see successful jockeys being arrogant. However much they win, the two ambulances behind them at every race are for them as much as anyone. Being a jump jockey keeps you level-headed.
Who was most ferocious competitor you raced against?
Me, sadly. Not in a disrespectful way, but if I could beat me I was all right. The first year I was champion jockey, Richard Dunwoody was the best jockey at the time, and I wanted to beat him. Then when I was champion jockey, I wanted to do better than I did the last year, so I'd be champion again.
The film Being AP shows some of the physical cost of racing in terms of injuries – how did you develop such an extraordinary pain threshold? And who's the toughest?
Richard Johnson and Ruby Walsh are hard as nails. I've seen them ride when they've been in pieces. I saw Richard Dunwoody riding when he shouldn't. You get better at managing the pain. When jockeys get injured our first thought is not the pain but "How long will I be off for?" I would often do press-ups for a doctor to prove I could ride the next race – once with a broken and dislocated collarbone. We visit each other in hospital. When I visited Ruby, his wife was there and didn't know what to do. I told the doctor to take his spleen out, which he did. Ruby would be off for three weeks if he removed it, and three months if he didn't, which would mean he'd miss the King George and the Gold Cup. He hasn't thanked me, maybe because he has to take daily penicillin.
Who has the best understanding of horses?
[Irish trainer] Vincent O'Brien was ahead of his time. He had an eye. He could see what others couldn't. When one of his big owners wanted to buy an expensive horse, Vincent didn't want to. He bought the one next door, which was Nijinsky [which turned out to be one of the most successful racehorses ever]. I had an understanding; I could get the best out of a horse. They're mentally stronger than us [and] they won't do anything they don't want to do. You have to get inside their minds to get something extra out of them.
What's the most generous thing you've seen a man do for a horse? Or vice versa?
I talked to someone recently about an autistic child, who's since got involved with horses and it's totally changed their life. However much time the child spent with other people, the horse had the biggest effect on them.
What's the best part of a race?
Winning. To be consistently successful you have to be level-headed about winning and losing. Ryan Moore is statistically the best at the moment [and] he doesn't show much elation when he wins. He's not wrapped up in success or defeat.
What do you do for danger now?
Those days of unpredictability are gone, I'm afraid. A lot of the excitement is in the risk and I miss that every day. Unfortunately I didn't lose my nerve. It would be better if I did, then I wouldn't miss it.
Do you think you enjoyed your success enough at the time?
I did, because I kept wanting to repeat it, even though I may not have shown it. It was obviously what made me happy. Success never lasts long enough. The excitement lasts from the winning post to taking the saddle off in the winner's enclosure. Once you put other colours on, it's over. You're just a heroin addict chasing the buzz all the time.
Who will you be rooting for in the Grand National?
Many Clouds has definitely got a big chance of doing what Red Rum did, he's very impressive. The Druids Nephew was going well when he fell last year and I like Last Samurai and Holywell.
The Crabbies Grand National 2016 will be covered live on Channel 4 from 7th-9th April, with Saturday's feature race starting at 5.15pm
Sign up for workout ideas, training advice, the latest gear and more.
Thank you for signing up to Coach. You will receive a verification email shortly.
There was a problem. Please refresh the page and try again.