Rick Edwards: "I Loathe Gym Selfies"
By Coach Staff last updated
The towering TV presenter on the highs of the bench-press, and the lows of processed ham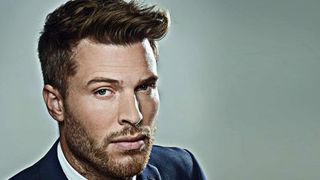 (Image credit: Unknown)
This article appears in the new issue of Coach magazine, out tomorrow. To find out where you can get your copy, click here (opens in new tab).
1. Which excuse for not going to the gym/working out are you most ashamed of?
It's probably this weekend just gone. I was supposed to go to the gym with my personal trainer and I just didn't, because when I woke up on Saturday, I thought, "I really just want to go and have breakfast with my friends," so I said I was ill. It was a total lie. I was lying to my trainer and lying to myself. But, oh, it was delicious. I had bacon, eggs and chorizo
2. Which health product would you rescue from a burning building?
I'm assuming the burning building is my house? Surely I've got bigger things to worry about than my health equipment, like "Is this insured? F**k, I hope this is insured." However, I have an enormous tub of protein powder and oats that is the only protein shake that I've ever had that isn't absolutely disgusting. It's quite expensive, so I buy it in bulk. I guess I'd probably save that.
3. Have you ever secretly impressed yourself with a feat of strength?
I've been noticing as I've been training in the last six months or so that my bench-press is getting better. It's quite satisfying – that's the benchmark that everyone tries to go for, isn't it? And mine is steadily improving, and I feel quite pleased about it. Actual results.
4. What's your position on kale?
Do people have a position on kale? It makes me feel like I'm somehow missing out on not having a strong position. I think I quite like it. I'm not the sort of person who is trying to put kale in everything or eating kale crisps or any of that sort of business, though. I always think I'm going to like kale crisps but the reality is, they're not very nice. They're certainly a pale imitation of crisps, aren't they?
5. How often do you take selfies in the gym?
Never, I haven't, and I sort of loathe people that do. The last place I would do it is in the gym, because I'm red in the face and wearing some tight, not especially flattering clobber.
6. What's the most extreme thing you've done in the name of good health or fitness?
I don't know if I've ever done anything that extreme. Years ago I did one of those six-pack challenges for a magazine, and I remember I actually sort of got into the gym part of it, but the diet side of it was an absolute nightmare. I can remember getting really hungry and snacking on ham straight out of a packet. It was a pretty bleak six-week period.
7. Have you ever bought a piece of exercise equipment but never used it?
I've got one of those wobble board things? It's got a dome with a platform above and you stand on it – never used that. Felt like a good thing to have in the house though.
8. What's the longest you've gone without alcohol in the name of good health?
I just started to sound pretty impressed with myself, but then I realised that it's not that remarkable – I've only done three weeks. It really did make me feel good, but at the same time, it's a bit like the dieting thing, it's a little bit dull. I quite like to have a drink at the weekend.
9. Is there such a thing as too much olive oil?
That's a great philosophical question of course, but I've got no idea. Olive oil is good for you, isn't it? But I wouldn't drink it straight from the bottle. Although recently, my girlfriend has told me we should be cooking with butter instead, so actually our intake has gone down in the last few weeks.
10. Have you ever owned a micro-scooter?
No. Also, I am the opposite of micro – I mean, I'd look like an absolute berk. Also, I think it would probably be quite bad for my back. Really, really, not a good look for me.
Rick will speak on the panel for He's A Dedicated Follower Of Fashion on November 28 at Southbank Centre's Being A Man Festival [BAM]. The festival is on November 27-29 with talks, debates and performances from more than 150 speakers and performers. Visit southbankcentre.co.uk/bam (opens in new tab) for more info.
Coach is the place to come for all your health, fitness, and personal wellness needs.
Sign up for workout ideas, training advice, the latest gear and more.
Thank you for signing up to Coach. You will receive a verification email shortly.
There was a problem. Please refresh the page and try again.