Andy C: "You Can't Burn the Candle at Both Ends Forever"
By Coach Staff published
One of the planet's biggest DJs on the fizzy secret to non-stop partying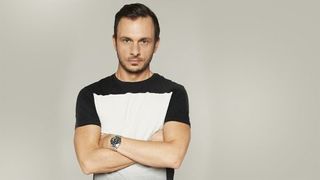 (Image credit: Unknown )
What comes with being one of the planet's most revered DJs? Lots of late-night marathon sessions behind the decks. Drum 'n' bass pioneer Andy C knows a thing or two about the stress and strain of tour life. As he prepares for his All Night Tour, does fitness take a back seat?
How would you rate your fitness on a scale of one to ten?
It varies, but right now I think I'm halfway – I've been touring a lot and it's just been studio nonstop, so I'm on about five hours of sleep a night.
How important is health and fitness to you?
Very important, because you can't burn the candle at both ends forever, can you? It's a case of taking stock and getting a fitness buzz, and that means eating healthy, trying to do a bit of yoga, getting the stretches going and just making your body feel a little bit better. I try and keep fit, but I also pace it – you don't go absolutely nuts on a Monday after a heavy weekend, because you're just going to make yourself feel worse...
How do you exercise on the road?
Trying to eat healthy on the road is difficult, because the thing about airports is, all they do is ham and cheese baguettes. I don't know why they don't have more health food options – they'd make a killing. I mean, if you do get the option of a salad, they look like they've been there for six months waiting at the back while everyone's been eating the baguettes. That really bugs me.
What's the highlight of your fitness week?
One of my friends is a cycling junkie and when I've been out with him, the highlight is having a pint afterwards. I'm not coming across as a very healthy person here, am I? I'm caught in that mad life-balance of enjoyment versus knowing that fitness is massively important.
How is your fitness fingerprint unique to you?
I've been going all weekend and missing a night's sleep pretty much every weekend since the dawn of time – it's the nature of the job. When I say "keeping fit", I'm not trying to get a six-pack and all that, this is about maintaining a lifestyle and keeping healthy, that's my philosophy. You have to appreciate that you have to look after yourself in order to have the fun times at the weekend. That's why it plays an important part in my career.
What do you do to motivate yourself?
Fifteen cups of coffee and five Beroccas, that usually does the trick! I think the motivation is knowing that you've got to go again, got to keep on rolling – once you get somewhere new, you can't chill, you've got to go all night again. That's the motivator. But I do love my daily Berocca.
This article appears in the new issue of Coach magazine. Find out where you can grab a free copy here (opens in new tab).
Andy C's All Night Tour hits Birmingham's Rainbow Venues on 21st November. He plays Alexandra Palace on 24th March 2016.
Coach is the place to come for all your health, fitness, and personal wellness needs.
Sign up for workout ideas, training advice, the latest gear and more.
Thank you for signing up to Coach. You will receive a verification email shortly.
There was a problem. Please refresh the page and try again.