Dougray Scott: "I Just Eat Whatever the F**k I Like!"
By Coach Staff last updated
The suave Scottish actor on training for action-packed movie roles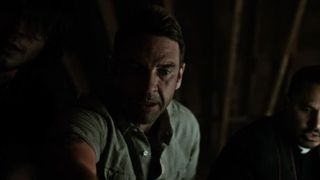 (Image credit: Unknown)
Best known for playing the bad guy on screen, Dougray Scott has to stay in shape to face off against Hollywood heroes like Tom Cruise and Liam Neeson. So how does he keep trim in between plans for world domination (and the odd croissant)?
On a scale of one to ten, how would you rate your fitness?
I'd say I'm about a seven-and-a-half just now. I've been a nine in the past, when I was training for MI2 – it was ridiculous, I trained six times
a week, twice a day.
What do you do to keep fit?
I have a trainer who lives in my pocket – he's my mate and he owns the gym in LA that I train at. He trains me three times a week and I also do Pilates because my back gets stiff, and Pilates is good for that.
Do you have cheat days?
Oh yeah, course, if I'm playing golf at the weekend I won't generally work out. Although if I'm going to pig out, then my ideal would be in France. Oh my God! The French; they came up with something incredible when they invented the croissant.
What's the highlight of your fitness week?
It's finishing the last workout of the week! It's always good when the trainer goes, "This is your last set." It's hard work – it's not easy sweating your guts out for an hour.
The Vatican Tapes is a tad scary – is watching a horror movie like exercising?
I would agree it would raise your heart rate, but I don't think having adrenaline pumping through your body is the same as endorphins. It's a good theory though.
How is your fitness fingerprint unique to you?
If I go to the gym, say if I'm playing an army guy or a CIA guy or whatever, I'm doing it to get a certain look. So, for me, it's actual work and that's the major difference. However, I've also had to put weight on for a role before – getting it off is tough, but on the way there it's fun, I just eat whatever the f**k I like!
Dougray Scott stars in The Vatican Tapes, in cinemas now
Coach is the place to come for all your health, fitness, and personal wellness needs.
Sign up for workout ideas, training advice, the latest gear and more.
Thank you for signing up to Coach. You will receive a verification email shortly.
There was a problem. Please refresh the page and try again.