Interview with Terroll Lewis, the founder of Block Workout
By Coach Staff published
MF talks to Terroll Lewis, founder of Brixton street-gym Block Workout, about 2015's highly-anticipated fitness trend, calisthenics.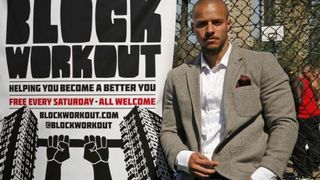 (Image credit: unknown)
What is calisthenics?
Calisthenics is a range of exercises that involve using your own bodyweight as a form of resistance – think 'old-school' exercises like press-ups, pull-ups, planches, lunges and squats. The beauty of calisthenics is that you don't need any equipment, just yourself.
When did you get into calisthenics/bodyweight training?
I went to prison after being involved in gangs, and while I was there I did a lot of bodyweight training. I never called it calisthenics, I only started calling it that when they put a name to it in 2012/13. I knew it as 'working out on the block'. I used to do push-ups in my cell using a bin, and press-ups on the toilet. I used to turn my bed upside down and do press-ups off my bed.
What are the physical benefits of calisthenics?
With calisthenics you're working out all the main muscle groups, including abdominal muscles, back muscles, arms and legs. It's great for strengthening muscles, burning fat and increasing flexibility, endurance and stamina.
What was the inspiration behind Block Workout?
I started Block Workout after coming out of prison in 2009. I wanted to join my local gym but was told I would have to pay by direct debit. I was confused about what direct debit was because I'd never had a bank account, so I went to a local kids' playground near my estate in Brixton and started doing pull-ups and press-ups from swings and bars. It wasn't a structured workout but I made it happen.
Where did it go from there?
I started off with a YouTube video, which got a couple of thousand views, and from there I built up a little following on social media. I was confused about why people were interested in me doing press-ups in a kids' playground – I was just doing it because I was bored. Then my followers started asking if they could train with me.
I invited a few people to train with me at an outdoor structured pull-up bar gym in Kennington, south London. I started doing little sessions of five to ten people and they were basically learning what I was learning. I moved the sessions to Brockwell Park in Brixton and just started to invite loads of people. I brought together a little team of people who I thought could be personal trainers one day, and started doing community sessions with them every Saturday. We've been doing structured sessions since late 2010, and since then it's experienced continued growth.
What's your training background?
I'm an all-round athlete, with a background in athletics, MMA and Muay Thai. I was also into gymnastics when I was younger, and have brought all that experience into the Block Workout, along with calisthenics.
Can you describe a typical Block Workout session?
You could say Block Workout is its own style of training, but it incorporates a lot of calisthenics. With traditional calisthenics, a lot of people just stick to bars, but we also focus on all areas including strength and endurance. We've got some ex-soldiers training at Block Workout, who give it a military-style feel. They do a lot of exercises like crawls, backward crawls and burpees. I have another trainer who specialises in just calisthenics.
I personally like to do lots of running, sprinting and press-ups. I like to include a lot of teamwork exercises too, like putting someone over your shoulders and running up a hill.
What are the mental benefits of the Block Workout?
I think it can definitely transform your mindset. I tell a lot of youngsters that it's important to have a mindset of 'I don't know it know it but I'll learn how to do it', that mindset of 'I can't quit'. These are valuable life skills that can transform your life, your training, your business relationships, your ventures and anything you do.
Do you use everyday items in your sessions?
The great thing about calisthenics is that you don't need any equipment, but it can enhance your workout. We use pull-up bars, dip bars and parallettes a lot. We also use battle ropes, rugby-style weight sleds and flipping tyres.
Do you think calisthenics could emulate the success of CrossFit?
I think the idea of CrossFit is amazing. It's entertainment but it's hard work at the same time. Calisthenics is more about unity and bringing people together. It's still in its early stages but it's definitely growing. I just think that not many investors are willing to put money into it because they can't put their finger on what it is yet.
I think calisthenics could actually become as big as CrossFit in the next couple of years. We just need the right people to invest in it and to get the foundations and structure right.
What are the benefits of a calisthenics workout over a gym workout?
The gym has brilliant structure in terms of helping you develop a routine, but it doesn't have that feeling of unity to it. You don't enjoy going to the gym unless you're with loads of friends. Some people feel intimidated straight away if they go into a gym and there's no one to help.
We have a lot of 13- to 26-year-olds training at Block Workout, and the reason they all come back is because they see me as an older brother. It's not a fitness group, it's more like a family. People come back because they like that sense of community, and because we're all there to get fit, get healthy and to learn new things.
What advice would you give to beginners?
I started by doing four pull-ups in the park. They were rubbish pull-ups, but I went there every day and kept practising. For beginners, I'd say just practise your negatives, enjoy it and have fun. Just go to the park and use the environment; whether it's doing dips off your bed, press-ups in your bathtub or walking down the street on your toes. Be warned though, it becomes addictive. You'll be sitting on the bus looking at the bars and thinking 'I could do a pull-up right now'.
Visit the Block Workout website for more (opens in new tab)
Coach is the place to come for all your health, fitness, and personal wellness needs.
Sign up for workout ideas, training advice, the latest gear and more.
Thank you for signing up to Coach. You will receive a verification email shortly.
There was a problem. Please refresh the page and try again.