The Spartan Obstacle Course Race Is Coming To Twickenham Stadium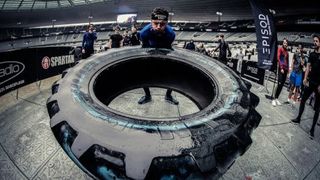 (Image credit: Unknown)
Obstacle course races may have hit peak popularity a couple of years ago, but there are still plenty of chances to heave yourself up, over and through things if you want to. And just in case you feel like you've been there and done that, you'll find that some events are a bit different now – shorter, less muddy and without quite as many electric shocks, if no less obstacle-y! After Tough Mudder launched its series of urban 5Ks last year, another big name in the OCR scene, Spartan, is bringing its Stadion series (opens in new tab) to the UK.
The Stadion events – which take the OCR concept and cram it into a stadium – are touring venues across the US and in select European capital cities, including London. Twickenham in southwest London to be precise, home of England rugby, on 23rd November. Don't expect to finish by diving across the try-line though (a bit of shame, that) because this is a mud-free course, probably for the groundskeepers' sakes more than yours. The event does take advantage of the setting, however, with the route winding its way through the stadium's innards, and up and down the stairs.
See related
It adds up to an easy way for urbanites to give OCRs a go, and CrossFitters of all levels will also take to it like ducks to water since the obstacles include rope climbs, box jumps, slamming balls and plenty of carries.
The day kicks off with an elite race, where competitors will be looking to get round in about 40 minutes for a shot at the prize money. You'll have plenty more time in the open morning or afternoon session, and if you fancy making a day of it you can sign on as a group and get a discount – 10% off the ticket price if there's three of you, 15% if you're a quartet or 20% if you roll five or more deep.
Buy tickets (opens in new tab) | From £60
Jonathan Shannon has been the editor of the Coach website since 2016, developing a wide-ranging experience of health and fitness. Jonathan took up running while editing Coach and has run a sub-40min 10K and 1hr 28min half marathon. His next ambition is to complete a marathon. He's an advocate of cycling to work and is Coach's e-bike reviewer, and not just because he lives up a bit of a hill. He also reviews fitness trackers and other workout gear.
Sign up for workout ideas, training advice, the latest gear and more.
Thank you for signing up to Coach. You will receive a verification email shortly.
There was a problem. Please refresh the page and try again.