The Tough Mudder Survival Guide
By Coach Staff last updated
Prepare for Tough Mudder's most notorious obstacles with Sony's latest SmartWear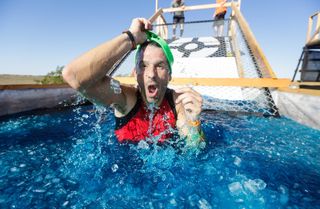 (Image credit: Unknown)
The reason doing a Tough Mudder event is so effective at improving your fitness is that your goals are so clear. You'll run faster to ensure you don't end up wheezing, lagging behind and slowing your mates down. You'll do upper-body work so you don't get dragged through along the course like a wounded soldier. But you also need to be in shape for the unique challenges thrown up by Tough Mudder's obstacles. Here, we prepare you for some of the most infamous ones, and show how you Sony's SmartWear can help ensure you're ready. Ready as you'll ever be, anyway.
Sony's Arctic Enema 2.0
A chilling update to Tough Mudder's signature ice bathobstacle, Arctic Enema 2.0 – owned by Sony as the official smartphone and SmartWear sponsor – forces you down a slide, under a fence and into freezing cold water. You then need to boost yourself over a wood partition to escape. Nothing can prepare you for the shock of the cold – but you can work on the mental stamina required to soldier through.
High-intensity interval training (HIIT) is a great way of teaching you to grit your teeth and ignore discomfort – and as a bonus, it's also a super-effective way to burn fat and will help prepare for the stop-start nature of Tough Mudder. Download the Lifelog app from Sony for your SmartWatch 3 to record the results of your HIIT sessions, allowing you to track your progress, but remember – you won't reach a Zen-like state of pain tolerance unless you go as hard as you possibly can in your workouts.
Mud Mile 2.0
Ever tried to run through water? Mud Mile 2.0 is like that, but harder – because water is replaced by thick, sticky mud intent on stealing your energy, and even your shoes if it's feeling cruel. Running a mile (1.6km) is a benchmark for cardio fitness, and while you'll never be able to recreate your PB when asphalt is replaced by mud, it will help familiarise you with the burning lungs and leaden legs you'll feel towards the end of Mud Mile 2.0.
Get the iFit running app, which uses the GPS in SmartWatch 3 to alert you when you've run a mile, and then find an open stretch where you can run uninterrupted. Record your time using Lifelog, and then watch it improve every time you do the same run. You'll also see how many calories you've burned – a perfect incentive. If it fails, well, just accept your fate, swan-dive into the mud and crawl your way to freedom.
Everest 2.0
Usually positioned towards the end to test your failing strength, this Tough Mudder classic is back and harder than ever. Apps for Sony's latest SmartWear devices can help you prepare for Everest 2.0 – a watery half pipe with an overhanging lip – in two ways: sprint training to build momentum and leg exercises to enable you to jump higher.
Apps such as iFit turn your Xperia™ Z3 into a personal trainer by coming up with a tailored training plan designed to boost the explosive power necessary to get up Everest 2.0 in one go. There are also plenty of free and premium apps for compiling workouts that focus on lower-body moves. Use Lifelog to record your sessions, monitor your performance and ensure you're getting enough rest between workouts to get the most from your training, and conquer Everest 2.0 without having to rope tired team-mates into boosting you up it.
Why Sony Smartwear?
The Xperia™ Z3 from Sony is the perfect exercise companion – it has up to two-day battery life*, which will see you through many a training session. It also has outstanding waterproof design** so if it starts chucking it down mid-run, who cares? Like you, the Xperia™ Z3's camera won't be stopped by a little rain – and its camera won't be defeated by adverse conditions either. Even in low light, it takes brilliantly detailed photos.
Having said that, with the SmartWatch 3 you can have the freedom to leave your phone behind if that's what you want to do. The SmartWatch 3's stand-alone functionality means you still have all the features you need right on your wrist. It can play your music, help map your routes and track every detail of your workout. Apps designed specifically for it such as iFit let you see real-time stats as you're creating them.
Holding SmartWear together is Sony's Lifelog app, a hub for recording all your activities to analyse, compare with friends, and plan future sessions. There's nothing better for helping you stick to a training plan than seeing your progress clearly marked out ahead of you. Not only can Sony's SmartWear help prepare you for Tough Mudder and its obstacles, it can also be a tool to help develop a fitter, healthier you.
You can pick up the new Xperia™ Z3+ at Carphone Warehouse (opens in new tab) now
*Usage conditions apply. More info (opens in new tab)
**Waterproof to a depth of 1.5m for 30 minutes. No sea water or salt-water pools. Abuse and improper use will invalidate warranty. More info (opens in new tab)
Coach is the place to come for all your health, fitness, and personal wellness needs.
Sign up for workout ideas, training advice, the latest gear and more.
Thank you for signing up to Coach. You will receive a verification email shortly.
There was a problem. Please refresh the page and try again.