Jamie Ashdown interview
By Rachelle Harry published
Leeds goalkeeper Jamie Ashdown on rowing the Channel and his push for safe supplements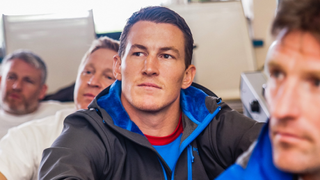 (Image credit: Unknown)
Do you feel fulfilled career-wise?
Nothing excites me more than putting on my goalkeeper jersey and doing what all kids dream of. I've been lucky enough to play for three amazing clubs: Reading, Portsmouth and Leeds. Leeds was the most daunting because it has such a great history of goalkeepers and players. As a goalkeeper, you have to be mentally strong when your team's performance isn't going to plan. That strength is the difference between those who advance in their career, and those who don't.
What's goalkeeper training like?
It's very different to field players'. Us goalkeepers get laughed at because we dive about, get covered in mud, and get hit by the ball. We do drills with cones and obstacles to keep you moving quickly, both physically and mentally. When I was younger, we used to do a fun exercise with six-foot mannequins, spiked into the ground. The other players kicked the ball at the mannequin and it deflected off into different directions for me to save.
How do you stay focused and motivated to keep in shape?
I like to set my own goals, and give myself time and patience to achieve them. My diet accounts for 70-80% of how I look and feel. The rest is down to goalkeeper training and the gym. And I don't like weighing myself – instead I use fat tests or waist line measurements.
You're going to row across the Channel next June?
It's for charity and awareness of skin cancer. Bruce Craven was a player for Leeds United. In 2005 he was diagnosed with skin cancer and died shortly afterwards. Although I never met him, the amount of support he had is still so touching. I'll be doing a crash course 12 weeks before the row. It's over 65km so I have to be careful not to over train because of my profession.
What's your nutrition plan like?
My diet is mainly based on vegetables and protein – I love chicken and salmon. I also avoid carbs, four days a week. To help my body recover between training, I take multivitamins, natural vegetable supplements and ZMAs (opens in new tab). A good night's sleep is essential too.
What inspired you to set up TrustedProSupplements.co.uk?
Claire Squires died during the 2012 London marathon, at the last few metres. She'd taken a product called Jack 3D, now banned for sale in the UK, which contained a fatal stimulant. There are numerous products being made that have hidden ingredients or are incorrectly labelled. Over 90% of athletes take supplements so I wanted to do something that ensures they can be taken safely. All the products on my site are registered with Informed Sport and they're the same products I use myself.
Why should MF readers go to your website?
You'll be able to purchase safe supplements, view the health food blog written by experts, check out nutritional education and get updates on my charity work.
Trusted Pro Supplements (opens in new tab) goes live on December 2nd
Sign up for workout ideas, training advice, the latest gear and more.
Thank you for signing up to Coach. You will receive a verification email shortly.
There was a problem. Please refresh the page and try again.