Digestion-enhancing smoothie
By Coach Staff published
This smoothie will reduce bloating and help your body to break down fat and repair itself after exercise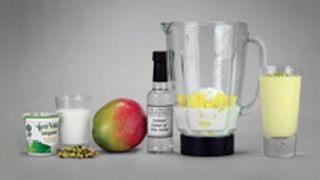 (Image credit: unknown)
What's in it
Flesh of ½ a ripe mango
1 small pot of natural yoghurt
100ml skimmed milk
½tbsp rose water
Crushed unsalted pistachios (don't blend – sprinkle on top to serve)
Why it works
Mango's digestion enzyme, papain, will help you absorb protein and essential nutrients, while the betacarotene will fight free-radical damage caused by exercise (opens in new tab). As well as protein, yoghurt supplies probiotics, which can boost the metabolism and reduce bloating. The calcium in milk stimulates the mechanisms in your cells that break down fat. The good fats found in pistachios increase your feeling of fullness. Their high potassium-to-sodium ratio also helps regulate your metabolism so you don't suffer hunger pangs.
Whatever your fitness aims, we've got a smoothie (opens in new tab) for you.
Smoothie, mango lassi
This delicious smoothie has a raft of health-enhancing effects, such as decreasing bloating, helping your body repair after a workout and regulating your metabolism.
Coach is the place to come for all your health, fitness, and personal wellness needs.
Sign up for workout ideas, training advice, the latest gear and more.
Thank you for signing up to Coach. You will receive a verification email shortly.
There was a problem. Please refresh the page and try again.