Detox beet
By Coach Staff published
Kick-start the new year with a nutritious detox juice, that's packed with antioxidants, and immune boosting ingredients.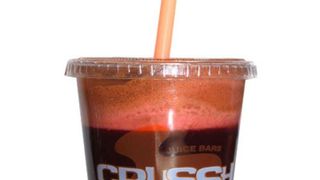 (Image credit: unknown)
Ingredients
Half a raw beetroot
One stick of celery
Three large organic apples
Two large organic carrots
Handful of goiji berries
One shot of Spirulina
Begin by blending the beetroot, celery, apples and carrots until you get a bright pink juice. Then blend a handful of goji berries and your preferred amount of Spirulina.
Beetroot
Beetroots are packed with lots of vitamins and minerals. They also have liver, spleen, gall bladder and kidney cleansing properties, which help build up the body's natural defense against carcinogens.

Celery
Celery is a good source of potassium as well as flavone apigenin which studies have revealed benefits blood pressure. Full of antioxidants it will help kick-start detoxification in your body.

Apples
Apples are rich in flavonol quercetin, one of the most potent antioxidants known to the world of nutrition.

Carrots
Packed with vitamin A, carrots are great for a healthy immune system, which will help you fire on all cylinders. They're also known to regulate blood-sugar levels.

Goiji berries
A great source of carotenoids and minerals, goji berries will fortify your immune system against winter nasties. They taste like a cross between a cranberry and cherry so will add a subtle sweet flavour to your drink.

Spirulina
One of the most concentrated sources of nutrition on earth, this plant extract will provide you with energy, endurance and strength. It also contains natural cleansing and detoxification properties and helps lower cholesterol thanks to its high levels of protein, vitamin B12 and iron

Recipe courtesy of CRUSSH (opens in new tab).

Freshly made DETOX BEET is also available to buy from CRUSSH (opens in new tab). Find your nearest CRUSSH (opens in new tab) at: http://www.crussh.com/ (opens in new tab)
Coach is the place to come for all your health, fitness, and personal wellness needs.
Sign up for workout ideas, training advice, the latest gear and more.
Thank you for signing up to Coach. You will receive a verification email shortly.
There was a problem. Please refresh the page and try again.