Muscle -building vegetarian meal plan
By Coach Staff published
Try this vegetarian-friendly muscle menu and you may be tempted to give up meat (maybe)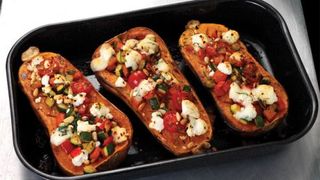 (Image credit: unknown)
Muscle isn't built by meat alone – there are plenty of vegetarian-friendly sources of muscle-building, body-repairing protein. Whether you're a full-on veggie or a carnivore who likes to dabble, try this plan and become a green giant.
Breakfast
Porridge oats with milk combines a hefty dose of protein with slow-release carbs to help fuel your morning.
Lunch
Roasted butternut squash with goat's cheese (serves 2)
1 butternut squash, halved / A pinch of chilli flakes / 1tsp thyme /
1 garlic clove, crushed / 2tsp olive oil / 1 courgette, chopped / 1 red pepper, chopped / 100g goat's cheese / 50g pine nuts / 100g cherry tomatoes, halved / 1tbsp parsley / 1tbsp parmesan
To make
Heat the oven to 180°C/gas mark 4. Criss-cross the flesh of each squash half with a sharp knife.
Mix the chilli, thyme, garlic and olive oil and brush the flesh with the mixture.
Roast the squash in a roasting tin for 40 minutes.
In a separate roasting tin, roast the pepper and courgette for 25 minutes.
Remove the squash from the oven and stuff with the roasted veg, goat's cheese, pine nuts and tomatoes, then roast for further ten minutes.
Sprinkle grated parmesan and chopped fresh parsley over the top, then serve.
Dinner
Chickpea curry is packed with protein and fibre to fill you up and maintain a healthy digestive system.
Snacks
Cottage cheese, Greek yoghurt and almonds all provide hefty doses of protein, helping to support your muscle-building between meals.
Nutritional info
Goat's cheese contains a hefty hit of protein, as well as being low in salt and high in vitamins D and K.
Courgette is a source of manganese, which helps the body to process protein and produce testosterone.
Pine nuts are full of protein, vitamin A and healthy monounsaturated fat.
Daily totals
2,613 calories
331g carbs
156g protein
77g fat
Coach is the place to come for all your health, fitness, and personal wellness needs.
Sign up for workout ideas, training advice, the latest gear and more.
Thank you for signing up to Coach. You will receive a verification email shortly.
There was a problem. Please refresh the page and try again.