Cheap protein-packed meal plan
By Coach Staff published
Get ripped on a budget with a day of wallet-friendly food including this delicious Lancashire hotpot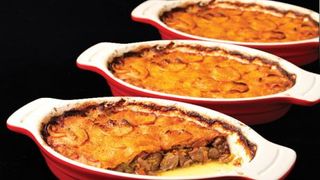 (Image credit: unknown)
While it's true that grass-fed lamb is usually pricier than the wares on offer at your local late-night kebab shop, that doesn't mean healthy eating has to cost a fortune. The meal plan below provides the perfect mix of lean protein, slow-release carbs and healthy fats required to pack on muscle and torch fat, using budget-friendly ingredients such as carrots, onions, porridge oats and canned tuna. To make your money go even further, buy the ingredients in bulk and batch-cook meals so you have plenty of nutritious leftovers for the rest of the week. For other ideas for getting more protein into your diet read our round-up of protein-rich foods.
Breakfast
Porridge oats with milk and honey are rich in filling fibre.
Lunch
A 160g can of tuna with wholemeal pasta and chopped tomatoes offers 25g of muscle-building protein.
Dinner
Lancashire hotpot (serves 4)
900g diced lamb shoulder / 2-3tbsp olive oil / 3tbsp plain flour / 2 carrots, peeled and chopped into 1cm-thick discs / 2 onions, peeled and thinly sliced / 1 sprig of thyme / 1 bay leaf / 600ml lamb stock / Salt and pepper to taste / 4 large sweet potatoes, peeled and thinly sliced.
To make
Preheat the oven to 170°C/gas mark 3.
Dust the meat lightly with the flour and season
it with salt and pepper.
Heat some of the oil in a frying pan over a medium heat and fry the lamb until browned. Remove and set aside.
Add a little more oil and fry the onions and carrots over a low heat until lightly browned.
Place the lamb, carrots and onions in a deep casserole dish and pour in the stock. Add the bay leaf and thyme and stir the mixture thoroughly.
Top with three layers of potato slices, brushing each layer with olive oil and seasoning well.
Bake for 1½-2 hours or until the meat is tender and the potatoes are crisp around the edges.
Cover the hotpot with foil and leave to stand for ten minutes before serving.
Lamb is packed with tryptophan, which helps to regulate appetite.
Carrots are rich in immune-strengthening betacarotene.
Sweet potatoes are a great source of energy-sustaining slow-release carbohydrates.
Snacks
Cashew nuts and sesame seeds contain testosterone-boosting zinc.
Coach is the place to come for all your health, fitness, and personal wellness needs.
Sign up for workout ideas, training advice, the latest gear and more.
Thank you for signing up to Coach. You will receive a verification email shortly.
There was a problem. Please refresh the page and try again.