How to make ceviche
By Sam Razvi published
Learn how to make ceviche, one of the tastiest and healthiest foods in existence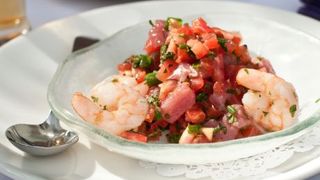 (Image credit: unknown)
Bubker Belkhit is head chef at The World's End Market (opens in new tab) in Chelsea, and a one of the best ceviche chefs in the country. A traditional Peruvian dish of raw fish marinated in citrus juice, ceviche is kind of like a South American sushi. It's cheap, it's healthy, it tastes amazing and it's packed full of healthy fats, muscle-building protein and vitamin C. Not only that, it's also one of the easiest dishes in the world to make, and with no cooking required there's pretty much no way you can get it wrong.
Ingredients
White fish (see below for details) / 2 lemons / 1 large orange / 1tsp soy sauce / 1 red onion, finely sliced / 2 red chillies, diced / 2 green chillies, diced / Pinch of salt / Pinch of black pepper / Fresh parsley
Method
Use a sharp knife to cut the filleted fish into thin slices.
Squeeze the orange and lemons into a bowl, and then add the soy sauce, black pepper and salt.
Place the fish in the marinade and leave for up to 30 minutes, depending on how thick you cut the fish (you will know when the fish has been in there long enough because it will whiten as the citrus 'cooks' it).
After marinating, take the fish out of the bowl and place on a plate.
Add the red onion, chilli peppers and parsley to serve.
While it's easy enough to prepare, there are still a few things you need to consider before diving in headfirst. Here, chef Belkhit shares his top tips for making the best ceviche.
The fish
'The freshness and type of fish you select will determine how good your ceviche is,' says Belkhit. 'Always select the freshest white fish possible from the fish counter or a fishmonger. Choose firm-fleshed snapper, sea bass or sea bream, and ensure the eyes are crystal clear and that the fish has bright red gills. Raw fish is an amazing source of omega 3 fatty acids, and the fresher the fish the more there will be in the flesh.'
The marinade
'Use any citrus fruit you like as long as it's organic,' says Belkhit. 'We mix both orange and lemon juice at my restaurant for a fruitier flavour, but feel free to experiment.'
The marinating
'Marinating can take up to 30 minutes if you cut the fish thick. However, I like to slice it very thin for two reasons: first, the flavours of the sauce easily combine with the texture of the fish when it is cut thinner, and second, because it creates a more delicate texture,' says Belkhit. 'Bear in mind though, if you do cut it thin it will marinate in about two or three minutes. Don't leave it in the sauce for too long otherwise it will start to break down and spoil the omega 3 fatty acids and proteins.'
Final touches
'While some people serve it with loads of extra ingredients added after marinating, others avoid using any at all,' says Belkhit. 'I like to minimise the amount of ingredients so the natural taste isn't lost – once it's marinated, I only add red onions, small chilli peppers and parsley – but feel free to try whatever you like. Tomato, avocado, coriander, sweetcorn and prawns are all garnish ingredients that work well.'
Tiger's milk
'The remaining juice at the bottom of the bowl after marinating is known as tiger's milk and is prized by the Peruvians who drink it as a hangover cure,' says Belkhit. 'You can either drain the bowl after you've eaten and drink it, or drain it before you start eating and sip it along with the meal. Delicious!'
Want to see how the professionals do it before making your own? Book a table at The World's End Market (opens in new tab) to taste Bubker Belkhit's delicious ceviche.
Sam Razvi wrote for Men's Fitness UK (which predated and then shared a website with Coach) between 2011 and 2016.
Sign up for workout ideas, training advice, the latest gear and more.
Thank you for signing up to Coach. You will receive a verification email shortly.
There was a problem. Please refresh the page and try again.