Men's Fitness makes - Turkey and sweet potato pie (video)
By Coach Staff published
The Body Coach Joe Wicks demonstrates how to make turkey and sweet potato pie in no time at all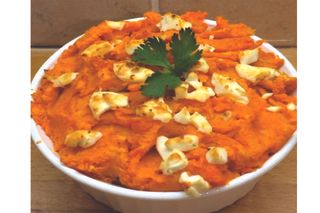 (Image credit: Unknown)
Ingredients:
Turkey mince
Sweet potato pie
Lucy Bee Coconut Oil
Feta Cheese
Red Onion
Mushrooms
Broccoli
Fresh Chilli
Chicken stock
Total Greek Yogurt
Instructions:
Peel 2 large sweet potatoes, cube and microwave for 5-7 mins to soften
Add teaspoon of coconut oil to a wok
Fry the red onion, mushrooms, broccoli and fresh chilli
Add the turkey mince
Add some chicken stock and 2 tablespoons of total greek yogurt
Place the pie filling in a tin and cover with mashed potato
Top with some feta cheese and stick it under the grill for 2-3 mins.
Bosh – That's a post workout refuel meal and its #Leanin15
About Joe Wicks
Personal trainer and nutritionist, Joe Wicks, has been helping his one-to-one clients lose weight and shape up for years. Now, however, he has thousands of people following his plans and advice, thanks to the spread of his #leanin15 and #TeamLean2014 hashtags across twitter and Instagram. His no-nonsense approach to diet and exercise and simple recipes (all designed to be cooked in under 15 minutes), and most importantly, his clients' results has resulted in Joe collecting over 100 new social media followers a day.
Follow on Twitter: @thebodycoach (opens in new tab)
Subscribe to the MF YouTube channel (opens in new tab) for more videos
Coach is the place to come for all your health, fitness, and personal wellness needs.
Sign up for workout ideas, training advice, the latest gear and more.
Thank you for signing up to Coach. You will receive a verification email shortly.
There was a problem. Please refresh the page and try again.