Healthy lunch ideas
By Sam Rider published
We search the high street to find the best healthy lunch ideas around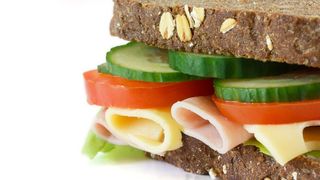 (Image credit: Unknown)
So, which lunchtime meal deal offers the best nutritional bite? We've selected the cheapest, tastiest options for under a fiver.
Best for cardio fitness
SAINSBURY'S: A main, snack and drink for £3
Be Good To Yourself Mango and Chilli Chicken Wrap + By Sainsbury's Melon Fingers + Taste the Difference Orange Juice
Calories 485
Protein 22.6g
Carbohydrates 85.4g of which sugars 35.9g
Fat 4g of which saturated fat 1.3g
Salt 1.6g
'The wrap's carb-to-protein ratio is ideal before a cardio-boosting training run,' says Vicki Edgson, author of Honestly Healthy For Life (vickiedgson.com). 'The fructose in the fruit should also help to sustain you for a 90-minute session. Drink lots of water to counter the salt's dehydrating effect.'
Best for fat loss
BOOTS: A main, snack and drink for £3.29
Shapers Moroccan Chicken Flatbread + Shapers Sweet and Salty Popcorn + Shapers Still Raspberry and Mango Drink
Calories 381
Protein 17.2g
Carbohydrates 61.9g of which sugars 11.5g
Fat 5.3g of which saturated fat 0.7g
Salt 0.8g
'The main is high in protein and low in sugars, saturated fats and salt so it's ideal for those wanting to lose weight,' Edgson says. 'Have the popcorn immediately after a workout for renewed energy and a kick of vitamin D. With just four calories in the drink, it's the next best thing to water.'
Best for energy
TESCO: A main, snack and drink with the cheapest item free
Salmon, prawn and tuna sushi + Unsalted Mixed Fruit & Nuts + Mango and Passion Fruit Smoothie
Calories 595
Protein 18.9g
Carbohydrates 80.3g of which sugars 47.8g
Fat 20.4g of which saturated fat 17.5g
Salt 1.3g
'The combination of protein and carbs in the sushi plus good fats in the nuts will provide long-lasting energy,' says Edgson. 'It'll also give you enough stamina for an evening workout. If you can, switch the fruit smoothie for a vegetable juice, which would be richer in nutrients and lower in sugars.'
Best for lean muscle
MARKS & SPENCER: A main, snack and drink for £3.50
Calories 550
Protein 28g
Carbohydrates 58g of which sugars 23.1g
Fat 22.6g of which saturated fat 11.1g
Salt 2.5g
'This meal's decent protein and carb content suits those looking to bulk up rather than slim down,' says Edgson. 'The grapes will provide anti-inflammatory relief to your body after a taxing workout, although I'd prefer an apple because it has more slow-release fibre to maintain normal blood sugar levels.'
Sam Rider is an experienced freelance journalist, specialising in health, fitness and wellness. For over a decade he's reported on Olympic Games, CrossFit Games and World Cups, and quizzed luminaries of elite sport, nutrition and strength and conditioning. Sam is also a REPS level 3 qualified personal trainer, online coach and founder of Your Daily Fix (opens in new tab). Sam is also Coach's designated reviewer of massage guns and fitness mirrors.
Sign up for workout ideas, training advice, the latest gear and more.
Thank you for signing up to Coach. You will receive a verification email shortly.
There was a problem. Please refresh the page and try again.