Liver and bacon: 10-minute meal
By Coach Staff last updated
Feast on liver and bacon and reap the muscle-building benefits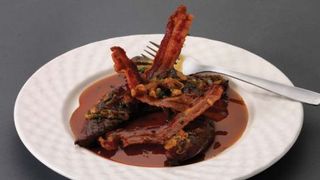 (Image credit: Unknown)
The offal truth: 
calf innards can 
be fantastic for 
your health. To be more specific, liver gives you some 
of the best possible bang for your nutritional buck because its cheap and packed with protein and a host of other nutrients. Add bacon and onions and you've got a muscle-building take on a traditional 
British feast.
Ingredients
¼ onion, finely sliced / 1tbsp olive oil / 2tbsp red wine / 150ml beef stock / 3 rashers streaky bacon / 200g calf's liver, thinly sliced
To make
Fry the onions with half the olive oil in a pan over a low heat.
Add the wine and stock and leave to reduce until thickened.
Meanwhile, grill the bacon under a medium heat for eight minutes or until crispy, turning halfway through.
Pan-fry the liver in the remaining oil over a high heat for eight minutes, turning halfway through.
Ingredient breakdown
Onions are rich in quercetin, which helps to soothe aching muscles.
Liver contains a hefty 28g of muscle-building protein per 100g.
Bacon provides a hit of energy-boosting B vitamins to fuel your gym sessions.
Olive oil offers a dose of omega 3, which improves joint health.
Coach is the place to come for all your health, fitness, and personal wellness needs.
Sign up for workout ideas, training advice, the latest gear and more.
Thank you for signing up to Coach. You will receive a verification email shortly.
There was a problem. Please refresh the page and try again.