Ploughman's lunch: 10-minute meal
By Coach Staff last updated
Blitz fat and pack on muscle with a twist on the traditional ploughman's lunch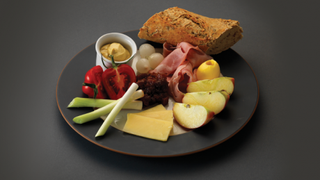 (Image credit: Unknown )
It may be considered traditional pub grub, but you don't need to visit your local boozer to enjoy a good ploughman's.
The home-made version here has over 20g of muscle-building protein, heart-healthy fats and slow-release carbs to boost your gym efforts. Skipping the traditional accompanying pint will increase your chances of actually training too.
Ingredients
Wholemeal baguette / 15g unsalted butter / 50g York ham / 50g mature cheddar cheese / 3 pickled onions / 2tbsp chutney / 2 tomatoes / 3 spring onions / 1 apple / 1tbsp mustard / A pinch of salt and pepper
To make
There's no prescribed method to making a ploughman's. Just slap it on a plate and munch however you like.
Ingredient breakdown
York ham is a good-quality ham that provides protein to boost your muscle-building efforts.
Tomatoes are high in vitamin K for strong bones and manganese to control blood sugar.
Spring onions contain sulphur compounds that keep blood healthy and lower LDL ('bad') cholesterol.
Apples contain filling fibre and phytonutrients that keep your digestive system healthy.
Coach is the place to come for all your health, fitness, and personal wellness needs.
Sign up for workout ideas, training advice, the latest gear and more.
Thank you for signing up to Coach. You will receive a verification email shortly.
There was a problem. Please refresh the page and try again.