Ham and eggs: 10-minute meal
By Coach Staff last updated
Give ham and eggs a fat-burning upgrade by adding a little-known but healthy vegetable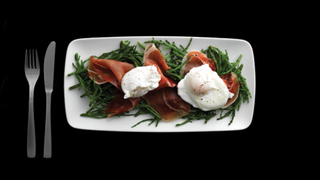 (Image credit: Unknown)
Ham and eggs: it's the breakfast of champions. And truckers. But while the classic double-header is a fine source of protein in its own right, the traditional diner accompaniment – chips – won't do your waistline any favours.
The solution? Replace spuds with samphire. The nutrient-rich vegetable grows along the British coastline and offers a variety of fat-fighting benefits, including high levels of folate, which helps your body convert sugar into energy. Just give it a good rinse first to wash off the salt water.
Ingredients
4tbsp white or white wine vinegar / 2 eggs / 1tbsp olive oil / 50g samphire / 3 slices Serrano ham
To make
Bring a pan of water to the boil over a medium heat, then reduce to a simmer.
Add the distilled vinegar and stir.
Crack the eggs into the pan and simmer for three minutes.
Meanwhile, heat the olive oil in a frying pan over a medium heat. Add the samphire and sauté for two minutes.
Serve the ham and eggs on a bed of samphire.
Ingredient breakdown
Samphire is a source of vitamins A and C, which work to boost your immune system.
Eggs are full of omega 3 fatty acids, which improve joint health and reduce inflammation.
Coach is the place to come for all your health, fitness, and personal wellness needs.
Sign up for workout ideas, training advice, the latest gear and more.
Thank you for signing up to Coach. You will receive a verification email shortly.
There was a problem. Please refresh the page and try again.