Turkish eggs: 10-minute meal
By Coach Staff last updated
Spice up your breakfast and add muscle with this variation on a classic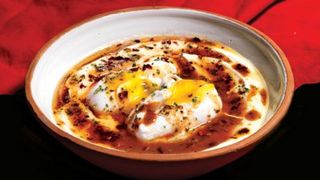 (Image credit: Unknown )
Bored with scrambled eggs? Try this spicy Turkish dish to add some variety to your morning meals. As well as the protein provided by the eggs, you get a hefty dose of muscle fuel from the yoghurt. The other ingredients provide both delicious flavours and more health benefits.
Ingredients
2 eggs / 1½ cloves garlic, crushed / 100g Greek yoghurt / 20ml extra virgin olive oil / 10g unsalted butter / ½tsp dried chilli flakes / 1 stalk fresh flat-leaf parsley, chopped / 25ml white wine vinegar
To make
Mix the garlic with the yoghurt and half the olive oil. Whisk for ten seconds and put to one side.
Melt the butter in a small pan until it is a nutty brown colour. Remove from the heat, add the chilli and stir, allowing it to sizzle.
Add the remaining oil and parsley, then set aside.
Add the vinegar to a deep pan of simmering water and poach the eggs.
Serve the eggs in a bowl on top of the yoghurt mixture and pour the olive oil/butter mixture over the top.
Ingredient breakdown
Eggs are a great source of essential amino acids and testosterone-boosting zinc.
Greek yoghurt is low-GI, so it helps to keep blood sugar levels steady and prevent energy crashes.
Chilli flakes are a source of capsaicin, which increases your metabolic rate, causing your body to burn more calories.
Olive oil contains plenty of heart-healthy monounsaturated and polyunsaturated fats.
Coach is the place to come for all your health, fitness, and personal wellness needs.
Sign up for workout ideas, training advice, the latest gear and more.
Thank you for signing up to Coach. You will receive a verification email shortly.
There was a problem. Please refresh the page and try again.