MF exposes fat loss myths
By Fiona Kirk published
Fiona Kirk, nutritionist and author of So What The F*** Should I Eat?, debunks a few fat loss myths.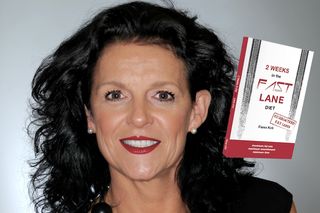 (Image credit: Unknown)
Fat loss myth - Red meat is fattening and increases your risk of heart disease

Why is this misleading?
There is no convincing evidence that saturated fat is harmful to health as long as it is balanced with what nutrition experts call 'good' fats - and what is often ignored is that half the fat in red meat is health-enhancing monounsaturated fat. It is also a rich source of protein and provides an abundance of vitamins and minerals, particularly iron, zinc, selenium and vitamin B12, which are vital for energy, strength and a strong immune system.

What should you do?
Keep it lean, buy top-quality and organic meat wherever possible, don't go overboard on portion size (use the palm of your hand as a guide) and have lots of vegetables/salad alongside your meat. Cut back on starchy potatoes, fries, bread and rolls because these are now recognised as major contributors to increasing waistlines. Also, go for venison when available. Venison is richer in iron than beef and very lean, chiefly because deer run around a lot!

Fat loss myth - Skipping breakfast hampers fat loss

Why is this misleading?
Experts say that if you don't eat first thing in the morning your metabolism doesn't crank up and burn stored fat for energy. This supposes that we all expend more calories in a day than we consume, leaping out of bed to hity the gym or pound the pavements first thing. If that's you, breakfast is indeed important because otherwise you are likely to feel weak, dizzy or nauseated. But if you are overweight, you need to badger the fat cells into giving up their energy stores and shrink, which they won't do without a fight.
What should you do?
Studies show that exercising first thing in the morning on an empty stomach encourages fat to be burned for up to eight hours afterwards. Have a protein-rich snack or small meal when you feel hungry (which may be mid-morning) to feed the fat-burning furnace and avoid energy crashes. Go for grilled, lean bacon and scrambled egg, an omelette with ham and cheese, bean or lentil soup, porridge with nuts and seeds, cottage cheese and fresh fruit, yoghurt smoothies, smoked salmon and cream cheese. Instead of bread, rolls or toast, go for oatcakes.

Fat loss myth - Just eat less and you will lose weight

Why is this misleading?
The amount of muscle you have largely determines how efficiently you burn fat because muscle is metabolically active, burning more calories than any other body tissue even at rest. Of course, cutting calories drastically is going to result in quick weight loss but this is unlikely to be lasting weight loss. If they are not fed regularly and well, muscles start to lose their strength, your metabolic rate slows down and you either hit a plateau or - worse still - regain weight.

What should you do?
Keep your muscles well fed and working. Regular exercise incorporating both aerobic (running, cycling etc) and anaerobic (weights, press-ups etc) builds and strengthens muscles. Eating little and often and including a good balance of protein, fats and carbohydrates provides the essential nutrients to ensure they don't go hungry or start under-performing. NB: omega 3 essential fatty acids (nuts, seeds and their oils and butters, oily fish, avocado and omega 3-rich eggs) are associated with increasing metabolic rate and limiting fat storage so get them into your day, every day.
Fat loss myth - Carbohydrates fill you up and aid fat loss

Why is this misleading?
Most food pyramid-style advice has breads, grains and cereals taking prime position, suggesting that these (preferably in the form of wholegrains) should compose the largest percentage of our daily diet to provide energy, good health, appetite satisfaction and weight control. But all these types of carbohydrate contribute to the amount of glucose that pours into the bloodstream and which drives up the production of insulin, the hormone that tells the body to make and store fat. A carbohydrate-rich meal at lunchtime will often see you nodding off at the desk mid-afternoon and looking for something to give you a quick burst of energy.

What should you do?
Fill up on beans, lentils and legumes (peas, broad beans, chickpeas), which contain non-digestible carbohydrates. They keep us feeling fuller for longer, increase the absorption of important minerals such as calcium, promote bowel regularity and encourage a phenomenon known as the 'second meal effect' where the insulin response is controlled not just after the meal but for hours thereafter and well into our next meal resulting in less fat storage.

Fat loss myth - To lose weight you have to bin the booze

Why is this misleading?
In addition to the evidence that consumption of two to four glasses of red wine a day reduces the risk of a heart attack by up to an astonishing 32%, a number of studies have found that adults with moderate alcohol intakes are at a significantly lower risk (around 30%) of developing type 2 diabetes than adults who don't partake. It has been suggested that this may be associated with improved insulin sensitivity and while alcohol adds calories there are ways to minimise the damage.
What should you do?
Alcohol raises blood sugar very quickly so always have a protein-rich snack before or with a drink (a couple of oatcakes with peanut butter, a chicken leg, a cold boiled egg, a small packet of nuts). Steer clear of beer, lager and cider as they are loaded with sugar and have red/white wine or vodka, gin, whisky, brandy with just ice or with soda and lemon/lime wedges. If cocktails are your poison of choice go for breezes, martinis, sours, Manhattans and screwdrivers. Match every drink with a large glass of water because alcohol dehydrates – you will really feel the benefit the next morning!


For more information on Fiona Kirk, go to fatbustforever.com. (opens in new tab) For more expert diet and nutrition advice, get Men's Fitness. Subscribe now and get five issues for £5 (opens in new tab).
Sign up for workout ideas, training advice, the latest gear and more.
Thank you for signing up to Coach. You will receive a verification email shortly.
There was a problem. Please refresh the page and try again.