How many calories are there in a Subway sandwich?
By Coach Staff last updated
Here's how to make that next Subway sandwich a damn-sight more healthy.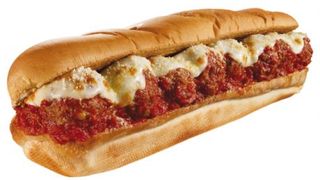 (Image credit: Unknown )
'Subway is OK if you avoid the sugary dressings and have an open sandwich, because all their buns are high in sugars,' says nutritionist Fiona Kirk. 'Choosing your own fillings makes it possible to get something close to a nutritionally balanced meal. To keep your blood sugar balanced, go for as much green goodness as you can, along with a source of protein such as fish, chicken or turkey. You should also go for the wheat bread, which is lower GI than the honey oat or plain white.'

Send it back: Meatball Marinara
The hidden salt in this sub is 78 per cent (4.7g) of your recommended daily allowance, which will encourage water retention and high blood pressure.
Calories: 382 Saturated fat: 9.2g

Order it: Turkey breast sub
Turkey is a low-fat source of protein, which will keep you feeling fuller for longer. The meat and bread are also full of B vitamins, which encourage the muscle cells to produce energy.
Calories: 226 Saturated fat: 1.5g
Click this link to find out what the most nutritious dishes at your local Chinese takeaway are.
Coach is the place to come for all your health, fitness, and personal wellness needs.
Sign up for workout ideas, training advice, the latest gear and more.
Thank you for signing up to Coach. You will receive a verification email shortly.
There was a problem. Please refresh the page and try again.