How Many Calories Are There in a Kebab?
By Drew Price last updated
And is there such a thing as a healthy kebab?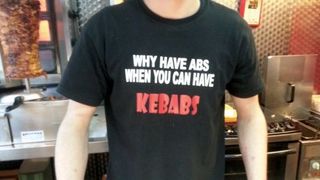 (Image credit: Unknown )
Kebabs are a late-night culinary institution in Britain, a classic pit stop on the drunken stumble home after a heavy session. But what exactly is lurking inside your pitta, and is it really as unhealthy as it's made out to be?
I'm at a takeaway in Stoke Newington, north London – where the first British kebab house opened in 1966 – to find out, and a few mouthfuls in, my gut reaction is "this is not good". I'm pretty sure this is the first time I've ever eaten a doner sober, and staring at the sweaty grey meat shavings in front of me, it's obvious why.
Original Turkish-style doners consist of slices of lamb shoulder marinated with garlic, onion and spices, cooked on a skewer. But most modern takeaways opt for the cheaper minced version – the "elephant leg" – which typically includes mechanically reclaimed meat, fatty off-cuts, processed oils and fillers such as rusk. And in a 2014 Which? investigation roughly half the "lamb" doners sampled contained other types of meat.
The nutrition stats are shocking too. An average kebab contains around 2,000 calories – 80% of your GDA – and almost double your salt requirement. According to Hampshire County Council, the average doner contains a wineglass's worth of cooking fat – which is one reason that a kebab gives you a massive 130% of your GDA of man-made trans fats before you've even added the sauces.
RECOMMENDED: How Many Calories Are There in a Curry?
Not all kebab shops are bad, though. In recent years, there's been a rise in healthier Turkish and Greek restaurants serving traditional, more nutritious fare. One obvious indicator of quality is a food hygiene rating, and although it's not compulsory for restaurants to display theirs in all parts of the UK, you can look up your local at ratings.food.gov.uk (opens in new tab). Other than that, a real charcoal grill, layered lamb doner and additional menu items such as chops and skewered chicken wings are all reliable signs that you're in an establishment catering for more than just the after-pub crowd. A halal certificate is also a bonus because it means the meat is likely to have come from a large, reputable supplier and gone through more quality checks.
Another way to ensure a better quality of kebab is to get yours from the places that get high ratings on britishkebabawards.co.uk (opens in new tab) – some of these even make their own doner from scratch using tasty cuts of lamb. It might take a bit of research but your waistline will thank you for it, and you'll find you don't need eight pints beforehand to enjoy a real kebab.
Kebab House Rules
Follow these simple steps to avoid the worst pitfalls – no matter how drunk you are
Empty lSwap doner for shish A chicken shish wins hands down every time, with more protein, less fat and fewer dodgy added extras.
Load up on salad Fibrous veg will help fill you up and provide extra nutrients – and with any luck you'll be too stuffed to polish off the remaining processed-carb pitta at the end.
Skip the garlic sauce The traditional yogurt-based version is increasingly rare these days – more often than not it's replaced with cheap mayo that's high in calories and bad fats.
But go big on chilli as long as the sauce is made with fresh ingredients (providing antioxidants and phytonutrients) – it should be easy to tell, but if you're not sure, ask.ist
Sign up for workout ideas, training advice, the latest gear and more.
Thank you for signing up to Coach. You will receive a verification email shortly.
There was a problem. Please refresh the page and try again.