Post-workout muscle snack
By Coach Staff published
Stimulate growth with this easy-to-prepare post-workout meal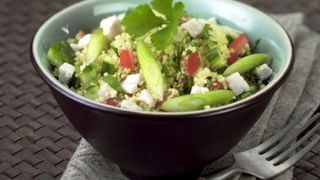 (Image credit: Unknown)
Ingredients
100g couscous
3 slices of turkey, diced
3 spring onions, chopped
1 tomato, diced
½ cucumber, diced
Chopped parsley
To make
Prepare the couscous according to packet instructions, then place in a bowl. When cool, mix in the turkey, spring onions, tomato and cucumber. Sprinkle with parsley and eat.
Turkey
Turkey is low in calories, fat and salt, but loaded with the protein needed for your muscles to develop and recover.
Spring onion
These are packed with chromium, a mineral that helps maintain blood-sugar levels and controls cravings.
Tomato
Tomatoes are a source of betacarotene and vitamin C, which help reduce inflammation and muscle soreness.
Cucumber
This is rich in silica, which is needed for healthy connective tissue bones, tendons and ligaments.
Couscous
This grain has a high score on the glycaemic index, so it encourages fast yet effective glycogen replenishment. It is also light and easy to digest.
Coach is the place to come for all your health, fitness, and personal wellness needs.
Sign up for workout ideas, training advice, the latest gear and more.
Thank you for signing up to Coach. You will receive a verification email shortly.
There was a problem. Please refresh the page and try again.