Muscle-repairing meal
By Coach Staff last updated
Fuel your weights workout and rebuild your exhausted post-workout muscle with this spicy chicken dish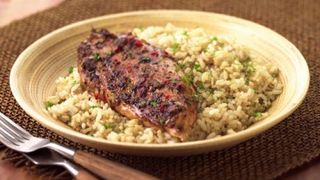 (Image credit: Unknown)
Ingredients
2 chicken breasts
2 cloves garlic, crushed
½tsp dried thyme
½tsp ground allspice
½tsp cayenne pepper
¾tsp black pepper
½tsp sage
½tsp nutmeg
¼tsp cinnamon
1 onion, chopped
1 jalapeño pepper, seeded and diced
2tbsp soy sauce
4tbsp white vinegar
To make
Combine the garlic, thyme, allspice, cayenne pepper, black pepper, sage, nutmeg and cinnamon. Add the onion, jalapeño pepper, soy sauce and vinegar and mix. Marinate chicken breasts in the mixture for at least one hour. Grill the chicken for seven minutes each side, basting with the marinade, and serve with 75g brown rice per person.
Chicken
Chicken contains all the necessary amino acids required for lean muscle growth.
Brown rice
The unrefined wholegrains in brown rice are high in energy-boosting B vitamins and magnesium.
Jalapeño pepper
These hot peppers contain capsaicin, which can soothe sore muscles and increase blood circulation.
Black pepper
Black pepper helps the stomach produce hydrochloric acid, making it easier to digest your food.
Coach is the place to come for all your health, fitness, and personal wellness needs.
Sign up for workout ideas, training advice, the latest gear and more.
Thank you for signing up to Coach. You will receive a verification email shortly.
There was a problem. Please refresh the page and try again.