High street health
By Coach Staff published
Can you get a nutritious, low-fat meal from a fast-food outlet? We took nutritionist Fiona Kirk around our favourite takeaways to find out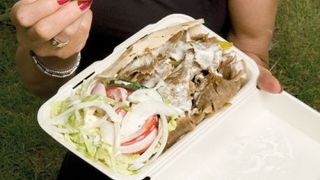 (Image credit: Unknown)
McDonald's
'McDonald's scares me most,' says Kirk. 'Their buns are full of sugar, their chicken burgers are fried in oil and their low-fat salads are high in salt. Even the drinks are unhealthy – a milkshake has a hefty 10.1g of fat and 20g of sugar. Drink milk instead, which has no saturated fat and will provide you with a healthy hit of calcium.'

Send it back: Big Mac
On its own it packs in 492 calories, 9g of saturated fat and 2g of salt. For a small extra cost you can add fries and a fizzy drink or milkshake, but the cost is much higher in heart-damaging salt and fat-promoting sugar.

Calories: 492 Saturated fat: 9g
Order it: toasted deli chicken salad
This is low in fat with a good balance of protein (from the chicken), carbohydrates (from the roll), fat (from the mayo) and fresh salad. To make it even healthier ask for a low-GI brown roll, which will feed your body with a steady supply of energy.

Calories: 359 Saturated fat: 1g
Pizza Express
'The good thing about this restaurant is that they make the pizzas from scratch, so you have more control of your fat and calorie intake,' Kirk says. 'Ask for a thin and crispy Romana base rather than the standard base, and go for less cheese. Also think about swapping fatty meat toppings such as salami for seafood or chicken, and add plenty of vegetables, which will provide you with gut-filling fibre and cancer-bashing antioxidants.'

Send it back: Quattro Formaggi (four cheeses: mozzarella, pecorino, grana padano and fontal)
Anything with this much cheese will be extremely calorific and full of saturated fat – the kind that clogs your arteries and puts extra stress on the metabolism.

Calories: 646 (based on 8in supermarket version) Saturated fat: 14.2g
Order it: La Reine (ham, olives and mushrooms).
This pizza has only a little cheese, which cuts down on calories, while the olives are low in fat and the selenium-rich mushrooms will give your immune system a boost.

Calories: 546 (based on 8in supermarket version) Saturated fat: 6.1g
Kebab shop
'Steer clear of the rotating elephant leg. It is painted with sugar and packed with cheap, fatty meat,' Kirk says. 'A chicken kebab is a far better option. It's made of chunks of chicken cooked over coals, stuffed in a pitta with plenty of vitamin-rich salad. As with most fast food, the choice of dressing can turn a relatively healthy dish into a disaster, so swap mayo for tzatziki and steer clear of the barbecue and chilli sauces, which contain loads of refined sugar.'

Send it back: large doner
According to Hampshire County Council Scientific Service, the average doner contains the equivalent of a wine glass full of cooking fat. Mmmmm.

Calories: 315 Saturated fat: 12.8g
Order it: chicken shish kebab
Grilled chicken is high in iron but low in fat. Go for plenty of salad, with cancer-fighting tomatoes and bone-building onions.

Calories: 155 Saturated fat: 1.7g
Curry
'Limit the damage by going for tandoori chicken with plain boiled rice and plenty of veg,' Kirk says. 'The chicken is baked in a clay oven with plenty of herbs and spices. Pilau rice might be tasty but it's usually fried, so it's much higher in saturated fat, and veg will fill you up without filling you out. Naan breads can also whack you with 500 calories, the equivalent of nearly two plates of rice.'

Send it back: korma with naan
Don't even think about a korma – it is made with fried meats, creams and ghee, a clarified butter that's a mind-blowing 99.9 per cent fat. The naan bread is brushed with fat-laden butter and full of salt and sugar, which will leave you feeling bloated yet hungry again within a matter of hours.

Calories: 870 Saturated fat: 13g
Order it: tandoori chicken
Chicken is a great low-fat source of protein, and the tandoori style of cooking doesn't affect this much – it simply dry roasts the meat without using any extra oil. The chicken can be marinated in yoghurt, which is good for the gut, and health-boosting spices such as chilli and turmeric.

Calories: 300 Saturated fat: 4g
Subway
'Subway is OK if you avoid the sugary dressings and have an open sandwich, because all their buns are high in sugars,' Kirk says. 'Choosing your own fillings makes it possible to get something close to a nutritionally balanced meal. To keep your blood sugar balanced, go for as much green goodness as you can, along with a source of protein such as fish, chicken or turkey. You should also go for the wheat bread, which is lower GI than the honey oat or plain white.'

Send it back: Meatball Marinara
The hidden salt in this sub is 78 per cent (4.7g) of your recommended daily allowance, which will encourage water retention and high blood pressure.

Calories: 382 Saturated fat: 9.2g
Order it: Turkey breast sub
Turkey is a low-fat source of protein, which will keep you feeling fuller for longer. The meat and bread are also full of B vitamins, which encourage the muscle cells to produce energy.

Calories: 226 Saturated fat: 1.5g
Chinese
'Avoid the prawn crackers and opt for chicken and sweetcorn soup, because starting with soup can cut the calories you eat in your main meal by around 12 per cent,' says Kirk. 'For your main, choose grilled or steamed fish with lightly stir-fried veg. You should also use the chopsticks, because they will slow down the pace at which you eat.'

Send it back: sweet and sour pork balls
Pork covered in batter and deep fried is not surprisingly high in saturated fat. Combining it with the sugary sauce and high-GI fried rice will also promote fat storage.

Calories: 700 Saturated fat: 11g
Order it: grilled king prawns with garlic and ginger
This spicy dish is low in saturated fat and sugar. Ginger also aids digestion and improves circulation.

Calories: 130 Saturated fat: 1.5g

For a list of the best Chinese restaurants (opens in new tab) in London, check out this run-down.
Coach is the place to come for all your health, fitness, and personal wellness needs.
Sign up for workout ideas, training advice, the latest gear and more.
Thank you for signing up to Coach. You will receive a verification email shortly.
There was a problem. Please refresh the page and try again.