Strength-building salad
By Jason Vandal published
Want to get the most from your muscle-building workout? Then eat this protein-packed dish.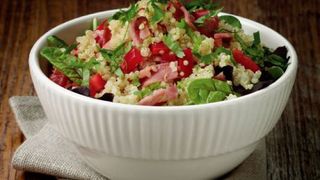 (Image credit: Unknown)
What's in it
70g quinoa
2 rashers of lean bacon, grilled and chopped
Handful of chopped spinach
1 pepper, chopped
1tbsp sesame oil
Mixed lettuce and fresh coriander
What you get
Slow-release protein to drip-feed your muscles, plus plenty of energy from the vegetables and herbs.
When to eat it
Two hours before a weights workout.
To make
Place the quinoa in a pan with 180ml boiling water, cover and simmer. When the water is absorbed, add the bacon, spinach and peppers to the pan and toss thoroughly in the oil. Serve on a bed of mixed lettuce and top with fresh coriander.
Bacon
Bacon is a good source of slow-digesting protein and zinc, which is great for muscle growth. The zinc will also help fend off tiredness.
Quinoa
This grain has a higher protein content than pasta or rice. It is also rich in slow-digesting carbohydrates and the amino acid lysine, which is needed for tissue growth and repair.
Spinach
Spinach will strengthen your bones thanks to its vitamin K content, which helps the body process calcium. It's also packed with iron, an essential mineral that controls the release of energy.
Peppers
Peppers are low in calories yet full of potassium, a nutrient that ensures proper muscle growth and helps your metabolism use energy to create muscular strength.
Coriander
Known to lower blood sugar levels, coriander can stimulate the secretion of insulin, helping you avoid energy slumps and hunger pangs.
For more fitness-boosting meals, subscribe to the magazine (opens in new tab). If you've got a paper phobia, you can download a digital version of the mag here (opens in new tab).
Sign up for workout ideas, training advice, the latest gear and more.
Thank you for signing up to Coach. You will receive a verification email shortly.
There was a problem. Please refresh the page and try again.