Spicy fitness food
By Coach Staff published
Fiery-mouth heaven aside, that is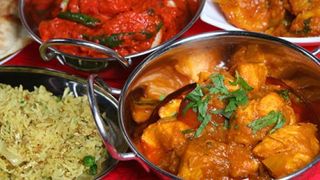 (Image credit: Unknown)
It kills pain
Spices such as cumin and turmeric are high in salicylic acid, the active ingredient in aspirin that kills pain and thins the blood. And the spicier your curry, the better it is – a Scottish study found that a vindaloo contained 95mg of salicylic acid, 30mg more than a standard aspirin.
It's good for your bones
Good news if you're a fan of dopiaza (which means 'double onions') – onions contain a peptide called GPCS that has been found to increase bone density and cut the risk of osteoporosis. This discovery, made by Swiss researchers, seems a fair trade-off for stinky breath.
It fights cancer
Turmeric is high in the antioxidant curcumin, which neutralises cancer-causing free radicals and inhibits enzymes that promote tumours. US scientists recommend that you combine it with cruciferous veg, such as cauliflower, broccoli or cabbage, to improve its healing powers.
It can heal an injury
If you've suffered a painful injury, forget the Deep Heat and go for a different kind of fire. Ginger contains compounds called gingerols, which scientists at the University of Sydney have found to act on the vanilloid receptor, which sits on pain sensory nerve endings.
It soothes cold sores
Turmeric also has antiseptic properties that combat the herpes virus, which causes cold sores. Eating a dish that contains turmeric won't help much – it's best to make a paste of the powdered form and dab it on – but any excuse for a curry, eh?
Coach is the place to come for all your health, fitness, and personal wellness needs.
Sign up for workout ideas, training advice, the latest gear and more.
Thank you for signing up to Coach. You will receive a verification email shortly.
There was a problem. Please refresh the page and try again.