A Healthy Beef Stir-Fry Recipe You Can Turn To In A Pinch
By Coach Staff last updated
This delicious recipe is high in protein and takes just 15 minutes to make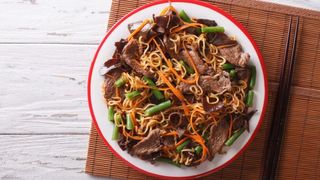 (Image credit: unknown)
The humble stir-fry truly is one of the truly great quick and healthy meals. It often only takes one pan to make, you can pile in a whole load of veg to help you on your way to your five-a-day, and you can cook, eat and wash-up in half an hour flat should you so desire. Just make sure you chew each mouthful properly.
Having a couple of go-to stir-fry recipes is, therefore, a wise move for anyone who regularly needs to make dinner quickly but doesn't want to resort to ready meals or takeaways, and this beef stir-fry recipe will make a superb addition to your repertoire. It's packed full of veg and high in protein, and if you double up on the ingredients it will be just as tasty for lunch the next day as well.
If you don't fancy beef tonight, how about this vegetarian stir-fry recipe or this prawn stir-fry recipe?
Method
Heat some of the sesame oil in a wok or suitable frying pan. Add the beef strips and sear until browned on both sides, then transfer to a large bowl along with the juices.
Back in the pan, heat some more oil and sauté the onion, then add it to the bowl of meat.
Add the carrots and garlic to the pan, add the beef stock and then the other veg and mushrooms. Once cooked, add the veg to the meat, and then add the noodles, soy sauce, lemon juice and black pepper and serve.
Ingredients (Serves One)
1 small lean beef steak, cut into strips
1 red onion
1 carrot, diced
2 garlic cloves, crushed
1 courgette, diced
50g sliced mushrooms
3tsp sesame oil
250ml beef stock
75g egg noodles, cooked according to instructions
1tsp soy sauce
1tbsp fresh lemon juice
Coach is the place to come for all your health, fitness, and personal wellness needs.
Sign up for workout ideas, training advice, the latest gear and more.
Thank you for signing up to Coach. You will receive a verification email shortly.
There was a problem. Please refresh the page and try again.