Fish curry with chickpea rice
By Coach Staff published
A spicy dish more satiating than lean beef or chicken that only contains a quarter of your daily fat allowance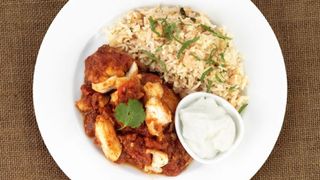 (Image credit: unknown)
Serves 1
Each serving contains 586 calories, 40g protein, 60g carbohydrate, 21g fat
Ingredients
150g any firm white fish, cut into thick chunks
1tbsp peanut oil
1cm fresh ginger, finely diced
1 garlic clove, finely chopped
½ onion, peeled and finely chopped
1tsp garam masala
¼tsp hot chilli flakes
¼tsp freshly ground black pepper
¼tsp turmeric
¼tsp cayenne pepper
100g chopped tomatoes
50ml cold water
1tbsp lemon juice
¼ fresh red chilli, deseeded and chopped finely

For the rice:
40g uncooked basmati rice
½tbsp extra virgin olive oil
¼ onion, chopped
½ garlic clove, crushed
Pinch of cayenne pepper
100g chickpeas, drained and rinsed
Zest of ¼ fresh lemon
Handful of fresh coriander, roughly chopped
Low-fat Greek yoghurt, to serve

Heat the oil over a high heat in a large frying pan, and quickly fry the fish for around 30 seconds. Remove the fish and place on kitchen paper on a plate. Reduce the heat and add the ginger, garlic and onion to the pan. Cook until golden then add the garam masala, chilli flakes, pepper, turmeric and cayenne and stir for 30 seconds. Add the tomatoes and water to the pan, stir, and add the lemon juice. Put the fish gently back into the pan, cover with the sauce, sprinkle with fresh chilli and allow to cook for 10 minutes.

Cook the rice as instructed on the packet and drain. Heat the olive oil over a medium heat and cook the onions until golden. Then add the garlic and chickpeas and put the rice back in. Stir-fry for a couple of minutes, add the lemon zest and coriander and serve hot, with the yoghurt on the side.

Recipe from Nigel Denby and Sue Baic, The GL Diet for Dummies (£9.99, John Wiley)
Coach is the place to come for all your health, fitness, and personal wellness needs.
Sign up for workout ideas, training advice, the latest gear and more.
Thank you for signing up to Coach. You will receive a verification email shortly.
There was a problem. Please refresh the page and try again.