Red pepper soup
By Sarah Schenker published
Give your soldiers all the ammunition they need. Suitable for vegetarians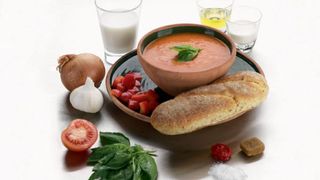 (Image credit: unknown)
Ingredients
1 pint of water – for stock
1 pint of milk
2 large tomatoes, chopped (skinned and de-seeded if preferred)
Four red peppers, diced
1tbsp cream
1 vegetable stock cube
1 medium onion,
finely chopped
2tbsp tomato purée
1tsp sugar
1tbsp olive oil
2tbsp fresh basil
2 cloves of garlic
Salt and pepper
How to make it (serves 4)
Heat the olive oil and then add the onions, garlic, basil and peppers. Sauté for around ten minutes. Add the stock and milk and liquidise until smooth. Add the tomatoes and tomato purée and simmer for 30 minutes. Add the sugar, cream and seasoning to taste. Simmer for a further five minutes and serve with the granary rolls.
Per portion: 195 cals; 7g fat; 8.5g protein; 26g carbs
What you get
Red peppers
Red peppers are an excellent source of betacarotene, supplying nearly 15 times as much as green peppers. Betacarotene is important for the efficient maturation of sperm.
Tomatoes
Tomatoes, and tomato purée in particular, are good sources of vitamin C. In trials, men with low vitamin C intakes have been found to have significantly increased levels of poorly developed sperm. Proper formation of sperm is restored after a month when intakes of vitamin C are increased.
Milk
Milk supplies zinc, needed for healthy sperm – a lack of it in the diet can contribute to impotence.
Granary roll
The whole grains in granary rolls supply vitamin E, which appears to help increase both sperm count and mobility. Men taking vitamin A supplements have been observed to have improved sperm mobility.
Sign up for workout ideas, training advice, the latest gear and more.
Thank you for signing up to Coach. You will receive a verification email shortly.
There was a problem. Please refresh the page and try again.