Chicken noodle soup
By Sarah Schenker published
An after workout soup to help repair and build your muscles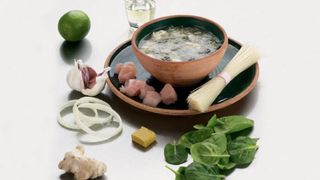 (Image credit: unknown)
Ingredients
2 pints of water – for stock
2 skinless chicken breasts, cubed
150g rice noodles
350g spinach leaves
1 onion, finely chopped
1 inch cube of fresh ginger
1 chicken stock cube
1-2tbsp oil
1 clove of garlic, crushed
The juice of one lime
Salt and pepper to taste

How to make it (serves 4)
Heat the oil in a saucepan. When hot, add the onions, ginger and garlic, then cover and cook for three minutes over a medium heat. Combine the water and chicken stock cubes into a stock, then stir it into the pan and add the spinach, lime juice and seasoning. Bring to the boil, add the noodles and stir. Cook, partly covered, for four minutes over a medium heat, stirring twice. Put the chicken in another saucepan, cover with salted water and bring to the boil. Cook for four minutes, then drain and add to soup.
Per portion: 278 cals; 4.8g fat; 22g protein; 36g carbs
What you get
Chicken
White chicken meat is a great source of high- quality protein. It supplies all of the essential amino acids needed to build and repair muscle tissue.

Noodles
These are a rich source of carbohydrate needed to supply energy to working muscles during training sessions. As it is a slow-release carbohydrate, aim to eat the soup a few hours before you work out.

Ginger
Ginger is a source of magnesium needed to maintain the nerve impulses to muscles and balance calcium levels within the muscle.

Spinach
Intense training can put a strain on the body's immune system as it depletes stores of important vitamins and minerals. Spinach is rich in the nutrients needed for a healthy immune system, including vitamin C, folate and betacarotene, as well as supplying iron and calcium.

Sign up for workout ideas, training advice, the latest gear and more.
Thank you for signing up to Coach. You will receive a verification email shortly.
There was a problem. Please refresh the page and try again.