Power baguette
By Lucy Miller published
Boost your pre-workout energy levels with this GI-balanced chicken baguette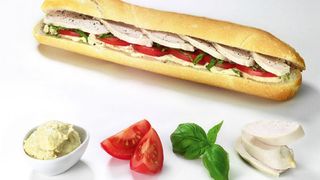 (Image credit: unknown)
When it comes to building muscle, carbohydrates are just as important as protein. That's because carbs are your major fuel for lifting weights. Munch this baguette at least an hour before you hit the gym and, with its combination of carbs both high and low on the glycaemic index (GI), it will raise your insulin levels, driving protein and energy into your muscle cells and encouraging muscle growth and energy.
To make
Slice half a baguette lengthways and scoop out the bread from the top and bottom. Spread 90g of hummus in the hollow base. Add two sliced tomatoes, 2tbsp of shredded fresh basil and a handful of sliced chicken breast and season with black pepper.
Baguette
A French stick has the highest GI rating of all breads so the carbohydrates will be released rapidly into the bloodstream and give you the energy reserves you need.
Hummus
Rich in fibre and high in protein, this chickpea-based spread is low GI so will counterbalance the baguette, slowing the release of glucose and providing you with a slower burn.
Tomatoes
These cancer-busters are loaded with vitamin C, which will help your body form strong tendons, ligaments and bone tissue in preparation for a hardcore gym session.
Basil
Basil is an excellent source of vitamin K, which will protect your heart and regulate the body's calcium – essential for healthy bones.
Chicken
The B vitamins found in chicken, especially niacin, will release energy from digested foods and help your body to maintain consistent blood glucose levels. Chicken is also a great source of lean protein.
Sign up for workout ideas, training advice, the latest gear and more.
Thank you for signing up to Coach. You will receive a verification email shortly.
There was a problem. Please refresh the page and try again.