Joe Wicks's Diet And Cooking Tips
By Nick Harris-Fry published
Don't be afraid to take shortcuts if it helps you avoid takeaways and eat healthier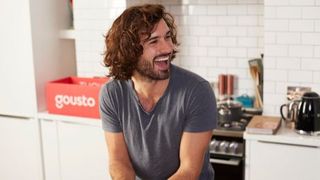 (Image credit: Unknown)
Joe Wicks has been shouting about the benefits of cooking quickly for a long time, and his Lean In 15 recipe books (opens in new tab) are incredibly popular, so it's clear that many people agree with him. For Wicks, the reason is simple.
"If you can give people time, so they get more time with their kids or on the sofa, they're going to be all over it," says Wicks, who has created a range of Lean In 15 recipes for recipe box service Gousto (opens in new tab). "Jamie Oliver's 30-Minute Meals (opens in new tab) was the most successful book of all time, but now even that [30 minutes] seems like a long time. People are busier and busier so speed is very important."
However, speed alone isn't enough. You also want your meals to be tasty and satisfying, otherwise you'll struggle to stick with making your own meals no matter how little time they take. We asked Wicks for his tips on how to make quick and delicious meals, along with some advice on how to make your diet healthier.
Use Healthy Shortcuts
"The way you can do 15-minute meals is by having shortcuts," says Wicks. "So putting sweet potato in the microwave, using microwaveable rice or a stir-fry veggie bag. There's nothing wrong with buying that stuff. If it makes you eat a big bag of veg, that's a really good thing. Imagine sitting there cutting all those vegetables up – you wouldn't do it. I'm all about shortcuts and convenience, just not the processed style of food where it's a ready made meal."
Stock Up On Staples
Having certain ingredients to hand at all times means you always have the ability to whip up a tasty meal quickly.
"It's really good to have some staple ingredients in the house," says Wicks. "Like a base for a curry, so coconut milk and a tin of chopped tomatoes, and some soy sauce. And spices like paprika, turmeric and curry powder – I always have a good store of them – and herbs."
Be Clever With Your Carbs
"I'm not a zero-carb guy at all – I love my carbs. I just use them more around training days," says Wicks. "I tend to eat reduced-carb meals, like scrambled eggs with avocado in the morning, then I'll train and after that I'll have my post-workout meal with carbs. It's not essential for fat loss, but it's a simple way of eating."
Meal Prep Makes For A Healthier Week
"Meal prepping is fantastic," says Wicks. "It seems like such an annoying thing to do but if you can spend a couple of hours doing a massive chilli or bolognese, or making your overnight oats for a couple of days, it makes your life so much easier. Rather than go to the supermarket to buy a ready meal, you've got your ready meal made in your fridge. It's so much better. You save money, you do fewer dishes. Meal prepping is a great way of staying on track."
See related
Think About Your Day-To-Day Activity
Many of us eat the same size and type of meals throughout the week without really thinking about how that fits with our activity.
"Energy input is important in terms of how much you've eaten – although I don't really count calories – but you need to think about expending energy as well. If you want to sit down and enjoy really big portions of food you have to be active. You can't expect to be able to eat massive meals and have snacks, then be sedentary all day and get results. I'm trying to promote movement and exercise. If you're going to be active today, have a few more carbs. It's a simple way to do it without overthinking too much."
Wicks's new Lean In 15 range for Gousto is made up of reduced-carb and carb refuel meals, to fit with what you're doing that day.
"The reduced-carbohydrate meals, which are higher in fats and protein, are good for rest days where you're adapting," says Wicks. "The carb refuel meals are lower in fats and higher in carbs, so they're great for after a workout."
Rethink Snacking
Speaking of snacks, ask yourself whether you really need them or you're snacking out of habit.
"I do recommend snacks on my 90-day plan, because people are so used to them they can't get their head around not eating snacks, but I personally am not a massive snacker," says Wicks. "I have three main meals and that's kind of it. If I have a snack I don't have energy bars, that sort of stuff. It will be a handful of nuts, a piece of fruit, or olives – I love olives."
Learn To Enjoy Cooking
Maintaining a healthy diet in the long term is going to be much easier if you look forward to cooking your meals, rather than considering it an inconvenience. So try to embrace the process.
"If you learn to enjoy it – try new things, cook with your partner – then you look forward to prepping and that's going to change your habits," says Wicks. "Then you're not going to be relying on fast food or convenience food. Falling in love with cooking is important."
Sign up for workout ideas, training advice, the latest gear and more.
Thank you for signing up to Coach. You will receive a verification email shortly.
There was a problem. Please refresh the page and try again.