Start Your Day With This Smoothie Bowl Recipe And Breeze Past Your Five-A-Day
By Nick Harris-Fry last updated
Upgrade your smoothie with whole fruit and you'll start to wonder why people struggle to get their five-a-day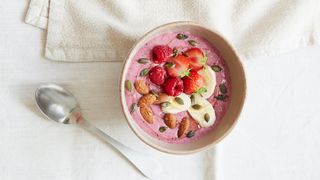 (Image credit: Photograph: Clare Winfield. Food styling: Rebecca Woods)
If you're looking to eat at least five portions of fruit and vegetables a day, and you absolutely should be looking to do that, then you need to start things off on the right foot. All too many of us opt for cereal and a coffee, or a couple of slices of toast, and leave our five-a-day tally stuck at zero until lunch, forcing you to play catch-up later in the day.
A glass of orange juice is a good place to start, plus a handful of raisins in your cereal. Or you can really go for it and make this smoothie bowl recipe from The Cycling Chef by Alan Murchison. The Cycling Chef contains 65 healthy for meals and snacks designed to fuel a keen cyclist, and all its recipes are easy to prepare and use ingredients you can find in a standard supermarket. Murchison was also good enough to share advice on how to fuel for a 100-mile sportive.
It's not only cyclists who can benefit from these easy, healthy recipes either. This smoothie bowl recipe is packed full of berries and other fruit, and some spinach even gets thrown into the mix too. The best part is that once you've blended your mix, the bowl is topped off with more fresh, whole fruit, because we all (hopefully) know that you can only count a smoothie as one of your five-a-day no matter how much you consume.
For more ideas for what to stick in your blender, try these smoothie recipes and this açai berry bowl recipe.
Method
Blend together the almond milk, frozen berries, banana and spinach in a food processor.
Stir in the oats, chia seeds, Greek yogurt and mixed seeds. Transfer to a bowl and leave to set in the fridge for 30 minutes.
Serve with fresh berries, banana slices, pumpkin seeds, almonds and honey to taste.
Ingredients (one serving)
50ml almond milk
100g frozen berries such as blueberries or raspberries (or most supermarkets stock a smoothie mix of mixed fruits)
1 banana, peeled
Handful of spinach leaves
1tbsp rolled oats
20g chia seeds
100g low-fat Greek yogurt
1tbsp mixed seeds such as sunflower or pumpkin seeds
To serve: fresh berries (halved strawberries, whole raspberries), banana slices, pumpkin seeds, almonds (whole, skin on) and honey
Nutritional info (per serving)
Calories 399
Carbohydrate 56g
-Sugars 24g
Fat 11g
Protein 21g
Sodium 56mg
Sign up for workout ideas, training advice, the latest gear and more.
Thank you for signing up to Coach. You will receive a verification email shortly.
There was a problem. Please refresh the page and try again.