Beat Bloating With Green Tea And The Best Flat Tummy Foods
By Sian Lewis published
Want to show off washboard abs for summer, but struggle with bloating? Follow our tips for a flat tum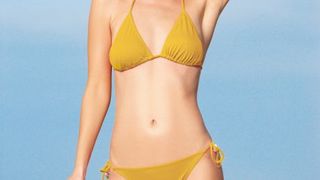 (Image credit: Unknown)
The Best Foods And Drinks For Beating Bloating
Without wanting to get too personal, if you're going to get a flatter tummy, you need to be nicely regular. Eat lots of fibre-rich foods. If you're not going to the loo at least once a day, adding a few prunes to your morning porridge can work wonders. Beans and pulses, and in particular adzuki beans, are excellent for reducing water retention, provide lots of fibre and protein and are a tonic for your digestion.
Eating a small pot of plain natural yoghurt with fruit or a little honey will boost the friendly bacteria in your gut. The bacteria improve digestion, helping you feel more energetic and getting rid of that bloated look and feel.
Aloe vera juice is soothing and helps your digestive system function.
Green tea is excellent for general wellbeing and for a flat tummy, so include three or four cups a day. If you can, begin the day with a cup of herbal tea or a squeeze of lemon juice in hot water. Dandelion and nettle teas are mild diuretics, which means they help to get rid of excess water. Lemon juice is very supportive for the digestion and so is also a perfect flat tummy start to the day. If you can't function without a cup of tea or coffee first thing, limit yourself to one cup of coffee or two cups of regular tea in the day and go herbal the rest of the time.
Cardamom can help with flatulence while cinnamon aids IBS symptoms.
Other helpful herbs and spices include cumin, fennel and ginger. Lemon balm is good both for digestion and stress – what a great combination. And you probably know peppermint tea is a digestive tonic but, interestingly, it's even better to drink it before you eat, rather than after.
Flat Tummy Eating Tips
Build some sound foundations. Drink at least six to eight glasses of water/cups of herbal tea through the day. Enjoy at least five portions of fruit and vegetables each day. If you have a sweet tooth, replace processed sugary snack foods with fruit or have just a couple of pieces of super dark chocolate in the evening or with your afternoon cup of green tea. Avoid adding salt to your food as it will absorb excess water just when you want to flush it out.
Keep breakfast simple and healthy. During the week have porridge with honey, yoghurt or compôte, or yoghurt with fresh fruit and a sprinkle of granola. Steer clear of bread and enjoy a big soup or salad for lunch. At supper, replace potatoes with another type of vegetable, include lean protein (fish and chicken), small portions of wholegrains and lots of fresh vegetables. Include beans in at least three of your meals this week, whether in your lunchtime soup or evening supper.
At the beginning and end of each day, and after lunch, take just five minutes to sit quietly and breathe deeply. Let your thoughts come in to your mind, recognise them and then let them gently drift away. As you're making lifestyle changes, think about what went well today and what provided more of a challenge. What can you learn from your reaction?
Keep a food diary. Write in your plan for the day and then the reality of what you've eaten – this helps when it comes to willpower and saying 'no thanks'! Remember, the key is for you to make your own positive healthy changes from last week. For some, that might mean adding 30 minutes of walking a day, while for others who already do lots of exercise, it could be swapping sandwiches and crisps for soup at lunchtime.
Don't rush your food. Eating slowly and in a relaxed frame of mind means you'll digest the food more effectively and prevent bloating or wind.
Fit in at least 30 minutes of exercise a day a week, from a brisk walk at lunchtime to a swim or Pilates class. This is essential for getting your energy flowing as well as combining with your diet changes to put you on the path to a flatter tummy.
This article first appeared in Women's Fitness
Sign up for workout ideas, training advice, the latest gear and more.
Thank you for signing up to Coach. You will receive a verification email shortly.
There was a problem. Please refresh the page and try again.