Did Your Breakfast Just Max Out Your Daily Sugar Allowance?
By Nick Harris-Fry published
It turns out most breakfast favourites are full of the sweet stuff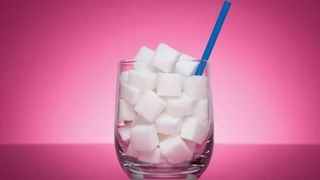 (Image credit: unknown)
Sugar, the devilishly tasty driver of obesity, has been in the crosshairs of health bodies around the world for some time – including the UK government, which has announced several measures intended to reduce Brits' sugar intake, like a tax on soft drinks set to be introduced in April 2018.
This week we heard that chocolate manufacturers like Nestle, Cadbury and Mars are also planning to reduce the size of their bars by 20% in order to meet sugar guidelines set by Public Health England. However, it's important to remember that sugar is not only found in obvious places like chocolate bars and fizzy drinks. It lurks in all manner of seemingly savoury and/or healthy products.
Breakfast, in particular, is a meal laden with sugary pitfalls, as the infographic below from AXA PPP Healthcare (opens in new tab) terrifyingly demonstrates. For example, your favourite breakfast beverage could put you well over the 30g of sugar that the NHS recommends as a daily limit before you even eat anything.
To be fair, anyone who drinks caramel macchiatos with vanilla syrup every day probably knows they contain a fair whack of sugar, but there are also large amounts to be found in more surprising places – like the 6.7 cubes' worth of sugar in a full English.
That alone would carry you two-thirds of the way to your daily limit, while one blueberry and blackcurrant smoothie – while healthy in some ways – will see you hit 30g of sugar by itself.
There are other factors to consider of course, such as the nutritional benefits of fruit smoothies and juices, and gobbling a couple of all-butter croissants every morning because they're low in sugar certainly isn't any better for your waistline or health. But still, forewarned is forearmed. Know your sugar.
Here's the full rundown of how much sugar is in the nation's favourite breakfast items (opens in new tab). Spoiler: if you're a fan of plain porridge with water, get ready to feel smug.
RECOMMENDED: How To Break A Sugar Addiction
Sign up for workout ideas, training advice, the latest gear and more.
Thank you for signing up to Coach. You will receive a verification email shortly.
There was a problem. Please refresh the page and try again.